Does wood hold the key to construction sustainability?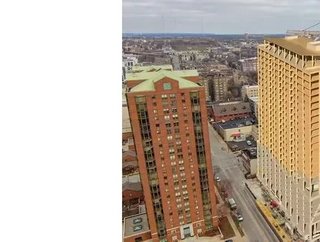 Wood is back in favour as companies look to build sustainably but high demand and rising prices are placing strains on resources...
It's strong, versatile and literally as old as the hills so it's perhaps hardly surprising that wood is experiencing a renaissance in a net-zero world where developers are looking to reduce their cement inventory.
From schools to corporate headquarters and even football clubs, organisations are looking at how best to cut carbon emissions globally, and that's sent demand for wood, and prices, rocketing.
Nick Boulton, Head of Technical and Trade at the Timber Trade Federation, said demand for timber products and many other building materials continues to outstrip available supply, creating a risk that demand-led inflation may choke off the sector's projected pace of recovery.
"We are seeing demand for wood products continuing to increase at UK, EU and Global levels which coupled with ongoing supply chain disruptions caused by Covid restrictions has inflated prices and extended lead times," he said. 
But soaring prices are not denting ambitions. When complete, Ascent in Milwaukee's East Town neighbourhood will be the tallest timber structure in the world (main photo). The 493,000-square-foot, mixed-use building will contain 259 apartments, a pool on the sixth floor, and a top floor amenity level.
The Wood CO2ts less campaign encourages using more wood to reduce CO2 emissions and highlights a number of low-carbon case studies. Flexibility is an important attribute; 6 Orsman Road, for example, has been designed to adapt and evolve as required. "The use of a prefabricated CLT-steel frame creates large column-free spaces that enable flexible configuration of internal layouts to suit changing tenant needs," it notes.
Last Thursday, industry experts gathered to discuss how wood can successfully be used as a building material to create sustainable learning environments. Hosted by Stora Enso, in collaboration with The B1M, the webinar showcased the award-winning case study of the Northstowe Learning Community in Cambridgeshire, UK, a 15, 000sqm project that utilised Cross Laminated Timber (CLT) to meet sustainability targets and provide an inspiring and healthy space for students.
Rory Doak, Business Development Manager UK & Ireland at Stora Enso, said: "The biggest impact [of the Northstowe project] is that there's nearly 3,000 tons of CO2 stored in the building that's not getting put back into the atmosphere". Pair this with the reduction of up to 75% of CO2 emissions that can be achieved using wooden construction methods versus concrete and steel processes, and it's clear to see how building with wood can contribute to this journey.
Also touching on the biophilic design nature of wood, the panellists shared insights on its positive impact on the health and well-being of children as studies have shown that the material can improve concentration and reduce stress. With return to classrooms post-pandemic in motion, this will be an incredibly important factor for educational authorities and construction players to consider.
But the webinar also assessed the barriers to adopting CLT as a construction material, from concerns around technical performance, to miseducation on cost-effectiveness. 
Dayo ShittuBalogun, Associate at EURBAN, said: "We're coming across a lot of risk aversion as people still consider wood construction as a new way of doing things. There is some miseducation on cost. People consider it to be a bit more expensive, but through some benchmarking work we established that if you're talking in simplistic terms, the structural skeleton of a building is either equal or cheaper – and more work needs to be done to communicate that this is the case." 
When looking at the path forward for sustainable school construction in light of the Northstowe project, ShittuBalogun, added, "We all have a commitment to not pour more CO2 into the atmosphere than we take out of it, so there is a moral obligation for all of us across the industry – and where better to see this play out than in an educational setting? This is exactly what we like to do, deliver buildings efficiently and sustainably."
Fred Mills, Co-Founder of The B1M, and webinar moderator, said construction methods have the power to truly effect people's lives. "It perhaps doesn't get more important than thinking about this in the context of where future generations are learning. Wooden school projects create amazing spaces for schooling, both from an environmental, health and well-being point of view. The task now, is to raise awareness of how concepts can be moved to an implementable reality and Northstowe is a fantastic example of this."
Five years after introducing see-through wood building material, researchers in Sweden have taken it to another level. They have found a way to make their composite 100 percent renewable – and more translucent – by infusing wood with a clear bio-plastic made from citrus fruit (click here). "The new limonene acrylate it is made from renewable citrus, such as peel waste that can be recycled from the orange juice industry," says lead author, PhD student Céline Montanari.
Forest Green Rovers' new Eco Park stadium - given the green light last August - will be made from mass timber, a catch-all term for engineered wood that's cut into slabs and then stacked together to make strong panels or beams, with designs provided by world-renowned architectural practice Zaha Hadid. 
In every sphere, wood's appeal appears to be on ever-firmer foundations.