James Halstead reports pre-tax profits of £51.3 million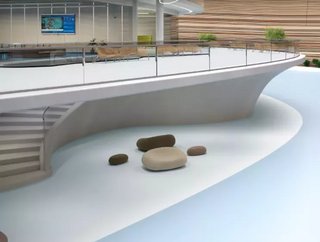 Despite a complicated year, commercial flooring supplier James Halstead reports record figures
James Halstead, the commercial flooring manufacturer and international distributor, reported pre-tax profits of £51.3 million for the year ending June 30 2021, up 16.9% on 2020.
Revenue totalled £266.4 million (2020: £238.6 million) with cash at £83.3 million (2020: £67.4 million) and the final dividend per ordinary share proposed of 11p (2020: 10.0p) marked a 10% increase, it announced in a statement to the London Stock Exchange.
Chief Executive Mark Halstead said it was "a complicated year" in which its top management had to balance risks to the business whilst maintaining key supplies to our core healthcare markets without compromising employee safety.
Its flooring received recognition in the year from the Contract Flooring Association (CFA) in conjunction with the Contract Flooring Journal (CFJ) - winning the "contract of the year" accolade in respect of the Polyflor Quicksafe that was installed at the NHS Louisa Jordan at the SEC in Glasgow, one of many Nightingale projects with which it was connected.
Andy Murphy, Director at Edison Group, said the record results were all more remarkable given three major setbacks which affected the firm: major disruption to one of the world's largest production plants in Louisiana by Hurricane Ida which affected worldwide supplies; shortages of materials linked to the closure of oil refineries as a result of the impact of the pandemic on the aviation sector; and issues of reduced labour supply due to COVID-19 self-isolation protocols.
"Looking ahead, business has bounced back beyond expectations, and three months into the new trading year sales are on a par with the record trading of the comparative period. Nevertheless, supply shortages continue to frustrate whether due to the lack of availability of raw materials or to driver shortages and concerns with international freight," he said.
"The cost of moving goods, the availability of shipping space and extended delivery times are all ongoing challenges, but the group's UK factories are in production and have taken on extra labour to raise stock levels – we share management's confidence that strong progress will continue to be made over the coming year."
The Commercial Flooring Market size is poised to observe significant growth in the next five years, with the dramatic increase in global construction along with decreasing natural resources encouraging companies to focus more on sustainability and the environment.
The market is divided into soft cover flooring, resilient flooring, non-resilient flooring, seamless flooring, wood, and laminate, and segmented into education, healthcare, hospitality, retail, and public buildings.