King's Cross achieves carbon neutral status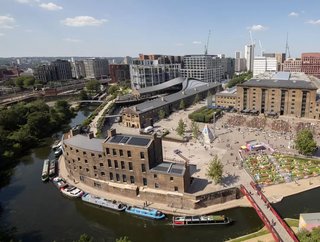 Every building within the North London district's ownership has been certified as a CarbonNeutral Development
King's Cross, the 67-acre regeneration site in London, has been verified as carbon neutral.
Every building within the North London district's ownership has been certified as a CarbonNeutral Development by Natural Capital Partners, in accordance with The CarbonNeutral Protocol. 
Energy supplies to the site are now 100% renewable, through green tariffs and direct agreements with energy providers, and all past embodied and operational emissions from the Estate have been offset through verified carbon offsetting projects.
To support its long-term commitment to remain carbon neutral, King's Cross is to plant a series of new UK forests 7.5 times the size of the 67-acre King's Cross Estate that will more than offset the embodied carbon of new and future buildings at King's Cross.
And to help add new renewable capacity to the national electricity grid, KCCLP has also agreed terms for a Power Purchase Agreement (PPA) with a renewable energy developer which will see King's Cross help to fund a new solar farm in southern England.
Today's carbon neutral announcement, the creation of new UK forests and the Power Purchase Agreement are major steps in the King's Cross Estate's ambitious journey to become net zero as soon as possible.
To watch a video, click here.