Modular and low-cost housing demand grows in UK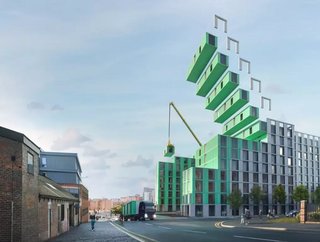 After Chapman Taylor unveils new modular residences, Gleeson Homes aims to complete the sale of 900 homes in the half year to December 31
Chapman Taylor recently unveiled what it describes as a "high-quality modular residential format" for the UK market.
Using volumetric, off-site technology, Chapman Taylor is working with off-site manufacturer CIMC, and its patented modular system, to deliver 1-, 2- and 3-bed apartments within medium to high-rise developments.
Chapman Taylor's Interiors team worked closely with CIMC to create the concept design and full specification for the homes, which fully meet National Space Standards.
Moreover the off-site method can help to reduce material waste by between 50% and 90%, compared to traditional construction methods. Modular buildings generate less heat and temperature, which contribute less to global warming.
Chapman Taylor recently completed the refurbishment of the food hall at Nový Smíchov in Prague. The 7,200sqm hall hosts 22 food concepts, 15 of which are new.
Gleeson has today reported strong demand for low-cost homes, providing a statement ahead of its AGM. The average selling price on new reservations since the start of the financial year was 12% higher than in the same period last year.
While the construction sector continues to experience availability and cost pressures with respect to labour and materials, Gleeson Homes has worked closely with its suppliers and subcontractors and continued building on all its sites.
Land continues to be available at sensible prices and the pipeline remains strong. Gleeson Homes has a land pipeline of 15,384 plots with a gross development value of £2.4 billion, of which 7,961 plots are owned and 7,423 are conditionally purchased.
The division currently has 82 active build sites, compared with 80 active build sites this time last year and is actively selling on 60 sites, compared with 65 sites this time last year.
As a result of continued congestion in the planning system, not least as a result of a shortage of staff in council planning departments, there have been some delays to site acquisitions and site starts. With an improvement in the planning process we expect to acquire and open a total of 25 sites during the year to June 2022.
"We expect Gleeson Homes to complete the sale of approximately 900 homes in the half year to 31 December 2021 and not less than 2,000 homes in the full year to 30 June 2022," it said. 
"Strong demand driven by the structural need for more low-cost, high-quality homes for first time buyers and our ability to offer attractive levels of affordability to our customers, mean that the outlook for the division remains positive."
Its website warns some shareholders have been contacted by "brokers" from overseas, usually from the USA, offering very high prices for their shares in the company. It said these offers are a form of 'Boiler Room scam' and advises shareholders not to engage in discussions and to report any such activity to the FSA by completing an online form available at this website.
The global modular construction market is expected to generate around US$175.15 Billion by 2025, growing at a CAGR of around 6.7% until 2025.