Special report: World Day for Safety And Health At Work 2021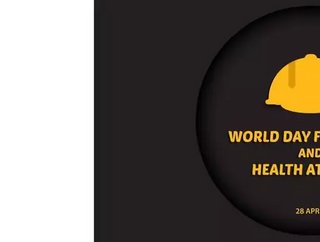 As construction firms must be mindful of employees' physical and mental health, technology is set to play a greater role in effective practices...
Safety has always been a priority for the construction industry – and in 2021, with COVID-19 still rampant in many countries and following a year of lockdowns, firms need to be mindful of employees' mental health as well as their physical well-being.
The International Labour Organisation (ILO) World Day for Safety and Health at Work on April 28 will focus on strategies to strengthen national occupational safety and health (OSH) systems to build resilience, in order to face crises now and in the future, drawing on lessons learned and experiences from the world of work.
In the latest full year figures, there were 40 fatal injuries to construction workers in 2020 according to the UK HSE, with falling from a height (47%) by far the largest cause, followed by trapped by something collapsing (16%), struck by moving object (12%), hit by moving vehicle (10%) and contact with electrical discharge (4%). 
A staggering 81,000 reported some form of work-related ill health and there were 61,000 non-fatal injuries. Workplace injuries also add a financial cost – estimated at £1.2 billion in the latest data available for 2018/19.
During the pandemic, while teleworking has been widely implemented – essential to limit the spread of the virus and maintain jobs and business continuity – it has led to certain OSH concerns including ergonomic and psychosocial risks. 
It might provide workers with increased flexibility but many of them also struggle with "presenteeism" (the blurring of lines between work and private life), musculoskeletal disorders caused by stationary work in front of a computer, the responsibility of caring for children or parents while working, and the social isolation that may come from not being in the office – which affects professional development.
COVID raises safety procedures – and workplace stresses
Mike Pettinella, EMEA Director, Autodesk, said as the global pandemic continues to disrupt everyday life for millions of workers across the globe, it is more important than ever to reflect on the impact it has had on our approach to health and safety within the workplace. 
For workers in the construction industry, safety has always been of the utmost importance. At the height of the pandemic, and the subsequent national lockdowns in countries across the globe to reduce the spread of the virus, construction firms have gone to great lengths to keep their employees and their sites safe. 
Construction companies are implementing stringent sanitation and social distancing measures, separate points of entry and exit, temperature screenings, prioritising healthcare projects, and staggered shifts. But that's only one part of the equation.
"Not only are construction workers grappling with the physical effects and changes the Covid-19 pandemic has brought to the world of work, but they are also facing greater pressures to meet the demands that modern working life places on the population," said Pettinella. 
"Increased competition as countries struggle with the impact lockdowns are having on their economy, higher expectations on performance and longer working hours are all factors that contribute to their workplace becoming an ever more stressful environment."
According to data from the Office of National Statistics (ONS), one construction worker takes their own life every day in the UK which shows the important role of mental health and not just physical health in the industry. A 2019 report from the UK Chartered Institute of Building (CIOB) found that 26% of construc tion industry professionals thought about taking their own lives in 2019 – before the Covid-19 pandemic had hit the industry. 
Job insecurity, long hours, time away from families, lack of support from HR and late payments all contributed to the 'silent crisis' according to the CIOB. 
"When we look at this issue in relation to the rest of Europe the picture is much the same," added Pettinella.
"The European Construction Industry Federation found that psychosocial risks and work-related stress are among the most challenging – and growing - occupational safety and health concerns for the industry in the region. Over half of the EU construction workers report that stress is common in their workplace and research found that psychosocial risks have a serious impact on productivity."
Creating and refining construction safety programmes using new technology
From improved transparency across projects to clearer lines of communication, using technology to improve collaboration can also improve safety both mentally and physically for those working on a project. 
Stress often occurs as a result of a number of factors – demanding deadlines, lack of clear information, poor communication and a lack of knowledge on the status of a project. 
By improving the way teams collaborate on projects where progress, transparency and accountability is clearer, team members can feel more confident in obtaining and distilling information using technology like a common data environment for example. Missing information and data can create dangers on a construction site, and stronger document management control practices reduce this risk leading to a more informed project team who feel up-to-speed with every aspect of their project. 
Using technology to manage safety reporting
Managing construction safety and inspections is a massive undertaking. Every project is different, and companies have their own standards and ways of working.  
As construction sites and projects get more complex, workers experience greater physical load and higher stress. Accelerated schedules often mean site workers are expected to work faster, increasing the likelihood of missed details and potential errors, with construction site safety sometimes suffering as a result.
To better manage safety performance on sites, construction companies have turned to using technology. However, today many main contractors are not yet using digital technologies to manage safety inspections. 
This means that some safety incidents are still being documented with analogue processes, silo-ing issues that cannot be automatically connected to detect patterns of unsafe incidents. Some larger firms struggle to implement newer practices at speed or to achieve full-scale standardisation which leads to a varied approach across projects when it comes to safety. 
Filling out construction reports and completing project checklists, whether for construction safety or quality inspections, can often be a tedious process with some lists containing hundreds of items. But project management tools can make navigating these laborious checklists easier and faster. Mobile-friendly software can be used in real time to capture issues and inspections, making it more likely to improve safety outcomes and accuracy.
Harnessing the value technology can bring to safety practices
Tracking technology, like sensors and wearable technology, make it easier for workers to gather data and follow safety protocols whilst minimising the impact this has on their productivity or day-to-day tasks. Linked to this, automation can play a big role in improving the timely communication of changes and reduces the amount of rework needed by providing workers access to the right information in the right place at the right time. 
UK strengthens testing procedures
Housing Secretary Robert Jenrick recently appointed two experts – Former government adviser and construction expert Paul Morrell OBE and legal expert Anneliese Day QC – to lead an independent review of the system for testing construction products. The review will examine how to strengthen the current system for testing construction products to provide confidence that these materials are safe and perform as marketed.
"The Grenfell Tower Inquiry has heard deeply concerning suggestions that some construction product manufacturers may have gamed the system for testing these materials and compromised the safety of residents," said Jenrick. 
"We are taking these allegations very seriously and will await the Inquiry's final recommendations – but it is clear that action is needed now to ensure products used on buildings always meet the highest safety standards."
Toolbox Talks and new app
Newly released Toolbox Talks, designed to share specific safety messages on work sites, are now available from the International Powered Access Federation (IPAF). Two short presentations explain the use of personal fall-prevention equipment (PFPE) when using Mobile Elevating Work Platforms (MEWPs) and what to look for when checking PFPE before use. A new ePAL app will proved access to digital PAL Cards, logbooks and safety guides (click here).
To read the cladding feature on page 56 of the April issue, click here