US builds foundations for inclusion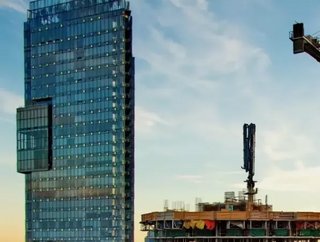 The first US Construction Inclusion Week is being held around the 'Building the Foundation for Inclusion' theme
'Building the Foundation for Inclusion' is the theme for the first Construction Inclusion Week this week.
More than 1,100 construction industry firms throughout North and Central America have signed up to participate and have received access to materials and resources that help foster conversations and bring awareness to diversity, equity, and inclusion.
Organised by Time for Change, a consortium of six general contractors, the collaboration's goal is to identify ways to advance diversity, equity, and inclusion in the construction industry. The shared effort by Gilbane Building Company, DPR Construction, Turner Construction Company, Mortenson, McCarthy, and Clark Construction Group resulted in organising an industry-wide week with affiliated partners Associated Builders and Contractors (ABC), Associated General Contractors (AGC), and Culture of Care.
Daily themes include Leadership Commitment and Accountability, Unconscious Bias, Supplier Diversity, Jobsite Culture, and Community Engagement. A social media wall has been built around the #ConstructionInclusionWeek hashtag.
The industry faces three skills challenges, with talent shortages due to aging workforces, perception issues among younger workers and the need to attract digital talent as construction becomes more reliant on technology.
"At Turner Construction, we're committed to creating and sustaining a diverse, equitable, and inclusive environment. We understand that every person at Turner and at a Turner site plays an important role in contributing to something lasting," said Bill Ketcham, General Manager, Turner Construction. "By creating an inclusive environment, we're able to lead with empathy and celebrate our differences and common values, as we continue to educate ourselves on issues like unconscious bias, racism, and privilege."
Tamaka Thornton, Community & Citizenship Director, Turner Construction, added: "Construction Inclusion week is a time to educate and engage on topics that may be difficult to discuss yet are needed. The construction industry is diverse, and Construction Inclusion week allows individuals to have conversations in an inclusive and respectful forum."
From safety to job site technology, the construction industry has made strides in collaboration but fostering sustainable and buildable change "requires unity, a common focus on achieving shared goals, and bold steps".
Construction Inclusion Week invites every member of the construction industry to unite to advance diversity, equity, and inclusion. The resources will enable construction companies of all sizes to plan targeted activities for their organization and trade partners.
By working together, learning from one another, and being consistent in commitments and actions towards maintaining a safe and inclusive work environment–free of harassment, hate, or bigotry, Construction Inclusion Week aims to encourage a positive change in the industry for generations of workers to come.
UK opportunities grow in decarbonised economy
CBI research estimates 240,000 new jobs can be created across a decarbonised economy, providing long-lasting employment opportunities for young professionals and those looking to transition away from traditional roles or declining industries. The industry was advertising on average 38,000 vacancies during May to July, the highest number of vacancies in at least 20 years, according to ONS data.
However women make up about 14% of the construction population and only 2% of site operatives are female. In Europe, the UK has the smallest proportion of female engineers.
Only 5% of registered engineers and technicians are women, and only 11% of the engineering workforce is female. At the current pace, researchers predict that achieving gender equality would take nearly 200 years. According to the Construction Industry Training Board, the industry average for ethnic diversity is about 13%.
Balfour Beatty Construction Services UK has initiated their diversity journey as a result of a series of recommendations provided by Global Diversity Practice. These recommendations were based on D&I best practice in the Construction Industry as well as analysis of the results of an internal review of D&I within the business.
The key driver for the commission was the company's desire to meet their talent and gender aspirations as well as win new business.