Wagners marks global launch of Earth Friendly Concrete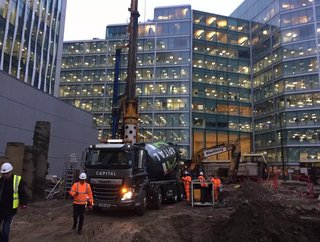 Australian firm Wagners to use London as 'global launchpad' for its Earth Friendly Concrete
Wagners plans to invest heavily in London as a global launchpad its new generation building material, Earth Friendly Concrete.
The diversified Australian construction firm has already started its expansion into Germany and chosen London as its initial global expansion focus. The announcement comes as Wagners exhibits in the Australian Pavilion at COP26 this week.
Earth Friendly Concrete is more sustainable than traditional concrete, with Wagners claiming it has around 70% less embodied CO2, saving 250kgs of CO2 per cubic metre poured. It is made from a binder consisting of industrial waste products, ground granulated blast furnace slag and pulverised fly ash with no Portland Cement.
In partnership with London-based Capital Concrete, Wagners Earth Friendly Concrete has so far been utilised on HS2 with over 900m³ of EFC used for the temporary works piling mats as well as 2km³ for haul roads and crane bases, saving 725,000kgs of embodied carbon. At Silvertown tunnel, 322sqm of Earth Friendly Concrete has been used to date for its temporary works.
Wagners Earth Friendly Concrete General Manager Jason Zafiriadis said the official launch of Earth Friendly Concrete in the UK is the next big step for Wagners and very timely in the two weeks of COP26.
"We are excited to be attending and exhibiting in Glasgow and cannot wait to be able to demonstrate how and why Earth Friendly Concrete is the world's only zero-cement concrete that has been proven at scale."
In developing EFC, Wagners recognised that the built environment is responsible for 39% of global carbon emissions. Concrete is the most widely used construction material in the world and the cement industry generates around 2.8 billion tonnes of CO2 every year and is the source of around 8% of the world's CO2 emissions.
Zafiriadis added: "Demand for concrete is growing, but progress in reducing the carbon content of cement and the cement content in concrete has been far too slow. We are ready to accelerate the reduction of the carbon footprint in construction."
EFC's performance advantages over ordinary Portland cement also include improved durability, lower shrinkage, earlier strength gain, higher flexural tensile strength and increased fire resistance
Wagners will be exhibiting in the Australian Pavilion at COP26 on November 11-12.
A recent Systems Change Lab report warns that the built environment sector in the UK is 'well off track' meeting the target necessary to limit global warming to 1.5 degrees Celsius by 2030 (click here).
World Cement Association CEO Ian Riley will this week call on governments to take action in three specific areas to accelerate the decarbonisation of an industry that contributes 7% to global emissions (click here).