Analysis: Will London's office sector rise or fall?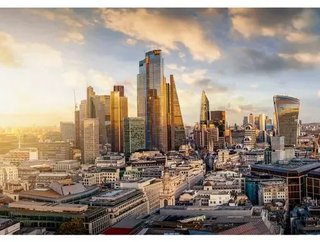 With London's commercial sector at a remote-and-opening-up crossroads, digital and sustainability are likely to be key to future success...
Today is a day for looking forwards and backwards as the UK marks the one-year anniversary of the first lockdown. 
Those who can recall full trains, thronging pubs, buzzing F&B venues and pavements crammed with commuters and tourists will be hoping the city can quickly revert to type - particularly as the country's vaccination programme continues to roll out at pace. Just under 28 million adults have now had their first jab.
But the jury is still out as to whether the capital, in line with other major cities, has changed irrevocably, as the novelty of Zoom a year ago has become the norm, tourists have left hotels and attractions without revenues and both workers and office managers alike no longer see the value in travel and rental expenditures. Rising infections in Europe, and likelihood that at some point they will enter the UK, creates further uncertainty.
"Today, herding people to the office is looking increasingly obsolete, expensive and inconvenient. Why should workers go to the effort and expense of dragging themselves into work to spend the day working on a device that they have brought with them, and will return home with at the end of the day?" said Mark Dixon, CEO of IWG. 
But a study by the London School of Economics showed many of the positive effects of home-working can wane over time. Ultimately, it suggested, home-workers can even come to resent their employers and feel less loyalty towards them, as they miss the human interaction, creative energy and face-to-face innovation. The hybrid 'hub-and-spoke' model of working is emerging as the preferred way ahead for many businesses.
Developers and owners must be mindful of these opposing dynamics, but ultimately build and invest for the long term - and there is evidence of pre-lockdown dynamism returning. 
Clivedale London recently announced that planning permission from Westminster City Council has been granted for the office redevelopment and extension at the former DeBeers UK HQ, 20 Carlton House Terrace. The approved scheme, designed by Rogers Stirk Harbour + Partners (RSHP), will enhance the 1970s St James building, delivering an additional three floors and offering a total 162,000 sq. ft. of commercial space across 11 storeys. 

Clivedale's announcement comes as CBRE forecasts businesses will occupy an additional 13m sq. ft. of office space in central London over the next five years, equivalent to annualised growth of 1.8% per year between 2021 and 2025. 
That would clearly indicate optimism returning - but the consequences of the reverse happening would be severe. To hedge its bets, the Carlton House Terrace will attemp to be a 'future-proofed office environment' that promotes a healthy workspace inspiring collaboration and creativity and in turn, catering for a post-pandemic market.
SES Engineering Services (SES) recently landed a deal to deliver £25m worth of MEP services to Helical's latest London commercial scheme at 33 Charterhouse Street, and aims to complete next year.
Steve Joyce, SES' managing director, said: "Regardless of the challenges thrown at the commercial sector this year, the future of office developments is moving towards a more digital, integrated and sustainable approach and 33 Charterhouse Street will be a fantastic example of this shift. We've worked with Helical before and their forward-thinking approach matches our own. The client has tasked us, as well as the rest of its delivery partners, with supporting an ambitious, but necessary goal in regard to becoming carbon neutral."
British Land - which is investing £1.5 billion over 10 years to transform Broadgate into a 'world-class, mixed-use destination' - has noticed the rising importance of tech, leasing over 30,000 sq ft of workspace at its London campuses to Vorboss and Anaplan. Leading fibre provider Vorboss has chosen Broadwalk House, Broadgate for its new headquarters and will take 17,000 sq ft of plug-and-play space until 2025. They will join digital challenger bank, Monzo, who relocated its headquarters to the building in 2019. 
Anaplan, the global cloud-based planning software company, is taking 13,000 sq ft at 338 Euston Road, Regent's Place for its new London office. The building is also home to Storey, British Land's flexible workspace brand, while Anaplan's Euston road location will also be home to its new EMEA Customer Experience Centre.
British Land recently completed the offset of residual embodied carbon at 100 Liverpool Street, which becomes its first net zero carbon building.
Companies which create offices that are more customer-centric, reduce environmental impact and proactively utilise technology and data will win in the "brave new world of work", according to Knight Frank. "Spaces that are safe, sustainable and smart will command the highest rents, generate the strongest returns and be best placed to secure longer-term income. From an occupiers' perspective, these are the sort of work environments that will most strongly resonate with changing expectations and support both staff and business needs," it notes. 
Elsewhere plenty of projects are on the up. Camden has approved plans to build a 10-storey office and research building for US pharmaceuticals giant Merck opposite King's Cross station.
The City of London Corporation plans to co-locate its three historic food markets of Smithfield, Billingsgate and New Spitalfields to a purpose-built site at Dagenham Dock. The redevelopment could generate £2.9bn, £1.4bn from the markets themselves, with the rest fuelled across a UK-wide supply chain, helping to support some 11,800 jobs.