Build-to-rent reaches new heights in Cardiff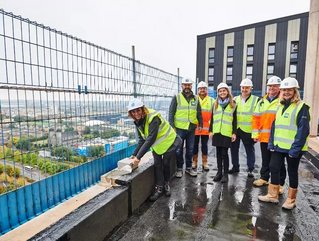 Winvic Construction has topped out a 307-home build-to-rent scheme in Cardiff - following approval for a 272-home development by Galliford Try
Winvic Construction has topped out a 23-storey, 307-home build-to-rent (BTR) scheme in Cardiff with its client, IM Properties and Grainger, the residential landlord which will own and operate the building.
The project – located in the heart of the city on Tyndall Street and close to Cardiff Central railway station within the Capital Quarter development – is being constructed on a compact site, with just 1500mm space between the façade and boundary.
In addition to the one-bed, two-bed and studio apartments, the scheme will also deliver a range of communal spaces for residents, including a double height rooftop sky-lounge and terrace, as well as commercial units on the ground floor.
Winvic has undertaken the groundworks, piling operations, completed the reinforced concrete frame and are progressing with the two-tone grey and white glass reinforced concrete cladding panels, including windows to the 18th floor.
The copper façade – one of the features which makes the building aesthetically unusual and striking – will be one of the final programme elements to be completed. The mechanical and electrical installation and fit out works are also well underway, with the benchmark rooms completed.
Winvic's director of multi-room, Mark Jones, said the RC frame project – as with any scheme being constructed on a very compact site – has presented a significant number of challenges. "Having worked with IM Properties and Grainger previously, we're working in partnership to be a solution and goal focused team and we're proud to have reached the topping out milestone in Cardiff's Capital Quarter."        
Majella Lynch, IM Properties' project director for the building, was delighted to have reached the milestone. "It is such a complex scheme to deliver, we have all had to apply a lot of thought and ingenuity to get it to this point, which really shows the strength of our in-house project delivery team working in partnership with Winvic."
Michael Keaveney, director of land and development at Grainger, added: "It's great to reach this milestone in our first Cardiff scheme. Upon completion this will be an excellent development, delivering professionally managed, high quality rental homes in a vibrant area of the city. We look forward to seeing the scheme progress and come to life in the coming months."
Last week the site team welcomed a Considerate Constructors Scheme assessor, and the project was awarded an 'Excellent' score. Progress of the scheme can be followed on Winvic Live.
Build-to-rent is a buoyant sector in Cardiff, where the council recently approved plans for a 272-home development by Galliford Try on part of the Marcol Estate at Guildford Crescent.
The 30-storey tower will provide modern, open plan living with full height windows in a mix of one and two-bedroom apartments reflecting the current demand within Cardiff City centre.
As well as being a new landmark, the development will act as a catalyst for Cardiff Council's proposed Canal Quarter regeneration plans, with Galliford Try also providing works to improve the local public realm as part of the development. The refreshed terrace on the ground floor will provide retail spaces that will spill out onto the new paved areas bringing in a continental café style area.
The building will include a large amount of attractive, shared amenity space for residents which will provide areas such as a fitness studio, games room and resident lounge, along with flexible workspace and bookable private dining areas. Residents will also benefit from a rooftop landscaped terrace on the 27th floor providing panoramic views across Cardiff Bay, the city centre and to the countryside beyond.
Phil Harris, Director for Galliford Try Investments, said: "As part of Galliford Try's Sustainable Growth Strategy, we have highlighted that build-to-rent schemes such as this are a key part of the plan for our Investments business going forward. We are naturally delighted to be reaching a key milestone for this important scheme in Cardiff, the first of its kind for our business in Wales. We look forward to starting on site in 2022 and working with all the stakeholders involved to provide much-needed high-quality rental accommodation for local people."
Derek Rapport, Chairman of The Marcol Estate, added: "As well as creating a stunning building in its own right, this development will kick- start the regeneration of the Canal Quarter, an area of Cardiff to which we have a long-term commitment. We are delighted to be able to bring this forward in conjunction with Galliford Try."
Banyan Software, a company focused on acquiring, building and growing enterprise software businesses, has bought Atamis, which enables clients to improve procurement visibility and control.
Headquartered in Cardiff, Atamis has given government and private sector customers across the UK and Ireland the ability to analyse, plan, source and manage their procurement spend. Its full suite of software modules empowers users to analyse and understand strategic spend, plan a procurement pipeline, complete e-tenders efficiently, manage contracts and monitor the risk and performance of key suppliers.