Country Garden signs agreement for Forest City project in Malaysia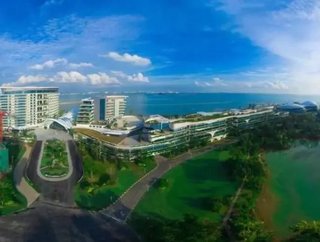 His Royal Highness Sultan Ibrahim Ibni Almarhum Sultan Iskandar Al-Haj, Sultan ofJohorand his royal council members have signed the second contract for...
His Royal Highness Sultan Ibrahim Ibni Almarhum Sultan Iskandar Al-Haj, Sultan of Johor and his royal council members have signed the second contract for Country Garden Pacificview Sdn. Bhd project Forest City Phase Two in Johor, Malaysia. The project, consisting of three international-standard golf courses and one five-star hotel, is meant to accelerate the Chinese government's international production capacity cooperation programme. The program will identify needs worldwide that can be filled by China's spare manufacturing capacity, as well as to establish urban centres that smartly integrate industry with residential communities. More than 700 hosts and their guests attended the signing of the contract. The Chinese government's One Belt, One Road initiative tightens relations between the people of Malaysia and China 
Johor State, the Malaysian state that abuts Singapore, has a long history with China which can be traced back to the year 1816. "The state's history has entered a new phase. At this special occasion, let us join hands to witness and promote the great friendship between Malaysia and China," said the Sultan of Johor.
The Country Garden founder and chairman, Yang Guoqiang, added, "Country Garden is now making inroads into the global market and I would like to give my thanks to the well-thought-out policies of our country and the support from all levels of government. My thanks also go to the times we find ourselves in and the opportunities that these times present as well as to all of Country Garden's employees". He further explained that Malaysia has always been a friendly neighbour to China, and that is the reason Country Garden chose Malaysia as its first step into the international market.
The Chinese government has asked that five requirements be met when companies and organizations work on a project meant to be aligned with the One Belt, One Road initiative: policy coordination, infrastructure construction (including railways and highways), unimpeded trade, financial integration and people-to-people ties. China Foreign Affairs University associate professor Gao Shangtao remarked that the informal diplomacy that Country Garden conducted facilitated the communication between the Chinese and Malaysian counterparts who worked together on the project, demonstrating in more ways than one the value being delivered by the roll out of the One Belt, One Road initiative. 
The need for production capacity cooperation programmes and for urban settings that intelligently integrate the workplace and the residential communities that depend on them is rising.
The Forest City that Country Garden will build in Johor State will encompass an area of 20 square kilometres. The project calls for the creation of the city of the future, with an ecologically sound urban layout that meets international standards in every respect. Malaysian Prime Minister Najib Tun Razak has said that Forest City would become a new growth point for Malaysia's economy.
The Sultan of Johor commented, "This vision will transform Johor into a vigorous new city where international industries will congregate."  He then went on to say that Forest City has demonstrated its ability to create something unprecedented in this world and that he expects the city to deliver immeasurable benefits to the people of Johor.
The Sultan also attended the signing ceremony between Country Garden and Johor-based asset management firm Esplanade Danga 88, setting out the terms for the management firm's contribution to the Forest City Phase Two project: the building of a hotel and several golf courses on an 8 square-kilometre segment of the larger project, in a move to develop tourism.
Forest City, in its role as a model for an urban milieu that smartly integrates industry and residential communities, has already attracted firms in the construction, transportation, tourism, education and health sectors. Tourism officials have said that more than 100,000 visits by travellers to Johor have taken place in 2016 alone as a result of the presence of firms that have already set up operations in Forest City.
A manager at Country Garden gave a presentation on some of the upcoming milestone events.  In addition to the opening of a 5-star hotel, construction will soon start on another five-star hotel and three international-grade golf courses. Other organizations that have already signed to come on board include Hong Kong-based MJ Group Enterprise Ltd., scheduled to build a health management facility that will open within this year and Shattuck-St. Mary's School, a coeducational boarding school based in Faribault, Minnesota, with plans to open a school in the city next August.
On December 6, 2016, Forest City signed with 36 leading companies from China and several other countries, the agreements of which in the aggregate deliver a market value exceeding 6 trillion RMB (approx. $US 875 billion). The roster of companies include 9 Fortune Global firms and their affiliates, among them, Chinese information and communication solutions provider Huawei, Chinese consumer appliances, robots and industrial automated systems provider Midea and Deutsche Bank Asia Pacific.
Forest City made its inroads into international markets in concert with 100 other Chinese companies, including engineering machinery and equipment producer Zoomlion, general contractor China Construction Eighth Engineering Division Corp., regional air carriers Spring Airlines and Sichuan Airlines, steel producers Shagang Group and Jiangsu Yonggang Group and ceramic and porcelain tile maker Monalisa New Material Group, in a move to deepen the Sino-Malaysian business ties through collaborative projects meant to make use of China's spare manufacturing capacity. Industry observers pointed out how the collaborative style of the negotiations and the sharing of construction projects that resulted in shared achievements all flowed from adopting the five requirements of the One Belt, One Road initiative.
Read the March 2017 issue of Construction Global here