EQT Real Estate and Sigma JV to build 3,000 London homes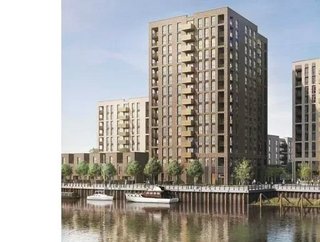 More than £300 million will be invested in new housing portfolio covering seven sites...
A joint venture between EQT Real Estate and Sigma Capital Group aims to build 3,000 homes built in Zones 3-to-6 in London and surrounding commuter belt.
EQT Real Estate and Sigma have initially committed equity of £300 million and £16 million respectively in the housing portfolio, which will have a value exceeding £1 billion. The initial acquisitions will be financed with a £50 million loan facility from Homes England, the UK Government's housing body that is responsible for increasing the number of new homes that are built in England and sponsored by the Ministry of Housing, Communities & Local Government. 
Five projects with an aggregate of 361 homes have been secured from Countryside Properties in the boroughs of Ealing, Enfield and Havering and two further sites currently development by Sigma in the boroughs of Barking and Dagenham and Havering will be acquired by the joint venture on completion. These two sites together will comprise an additional 157 homes and are expected to be completed during H1 2021. The balance of homes will be in the "more affordable areas of London" and delivered in the next five years. 
Completed homes will be let at market-rate rents under Sigma's 'Simple Life London' brand, which aims to bring a higher standard of customer care and convenience to the private rental market. Sigma manages in excess of 4,200 rental homes across the UK. 
Peter Shacalis, Director at EQT Partners and Head of UK, EQT Real Estate, said: "In addition to the initial seven schemes, we are currently evaluating a growing pipeline of projects in Greater London to build a large scale, resilient and downside-protected institutional BTR portfolio with robust and diversified rental income. EQT Real Estate looks forward to partnering with the Sigma team to realise our shared vision over the coming years."
Rob Rackind, Partner at EQT Partners and Head of EQT Real Estate, said the joint venture with Sigma Capital marks an exciting entrance into the UK for EQT Real Estate as it represents the first transaction in this market since the business line was established in 2015. 
Graham Barnet, CEO of Sigma Capital, said: "We are also pleased to be working with Countryside Properties in Greater London to replicate the success of our partnership in the regions. We look forward to delivering thousands of high-quality new rental homes across the Capital with our partners at EQT Real Estate and providing London renters with a higher standard of customer care."
Iain McPherson, Group Chief Executive, Countryside Properties, said: "Our Partnerships business has a proven track record, and, together with our clear strategy for growth, we look forward to continuing to work with our partners as we focus on the delivery of high quality and sustainable mixed-tenure communities."
The UK Government aims to deliver 300,000 new homes a year in England by the mid-2020s.