Europe's largest cross laminated timber structure built in Norway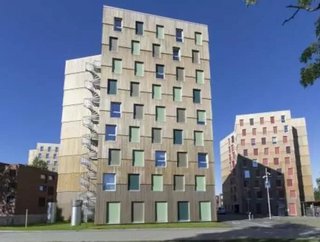 Trondheims latest student accommodation, is set to become Europes largest cross laminated timber structure and a welcome addition to the city. With cons...
Trondheim's latest student accommodation, is set to become Europe's largest cross laminated timber structure and a welcome addition to the city. With construction now drawing to a close, this new student village is expected to reach completion in December 2016. The sleek and stylish development has a sustainable Kebony façade and will comprise five blocks housing up to 632 students at the Norwegian University of Science and Technology. 
The vision for this student village is not only to provide simple and affordable housing, but also to make everyday life easier for students to allow greater focus on their studies. With a strong environmental and community focus, Moholt 50|50 is intended to be a valuable addition to the area which will benefit the local community, rather than being simply an extension of the university's existing accommodation.
The project aims to demonstrate that good architecture can create a sense of place and of belonging, irrespective of such a high turnover in tenants. The main structure of the accommodation is built using cross laminated timber, a relatively new product which is increasingly popular within the building industry.
Trondheim will also benefit from large inward investment initiated by this development, with the construction of a new 1000m2 parking facility, activity and fitness centre, library, medical centre, hairdresser, supermarket and clothes shop. Moholt 50|50 will create new jobs for the local community, while developing much needed facilities, such as a kindergarten for 171 children whose parents study at the university.  
Throughout the development process there has been a significant emphasis on promoting environmental construction. As a result, MDH Arkitekter chose to use Kebony wood as the main building material for the façade, offering a sustainable alternative to tropical hardwood, cement and brick. Norway has a long tradition of building with wood and Kebony's environmental attributes perfectly complement this sustainable design.
The patented Kebony technology treats sustainable softwood with furfuryl alcohol, an agricultural by-product, to polymerise the cell wall which gives the final product greatly improved durability and dimensional stability. The resulting timber is a high performing, beautiful wood product. A recent study by environmental consulting firm Bergfald & Co. demonstrated that Kebony has a substantially lower carbon footprint than its tropical hardwood equivalents, between 15 and 30 times lower, inclusive of treatment and transportation to Northern Europe, thus certifying that Kebony was the perfect choice for Moholt 50|50.
Dagfinn Sagen, MDH Arkitekter commented: "This is an incredibly ambitious project, and once completed it will be the largest cross laminated timber (CLT) construction project in Europe. We chose Kebony for the build as it requires no treatment throughout its whole life cycle, and is the perfect choice when you need a cladding material that is maintenance free. Over time, it also naturally develops an attractive silver grey patina, an aesthetic that we believe really works for this project."
Mette Valen, Sales Manager at Kebony added: "The project team working on Moholt 50|50 have done an incredible job, creating a large and striking building in the midst of a built up residential area. We were really pleased to see that they placed such importance on environmental values, and we hope that the size of the build will show others that even large scale projects can place sustainability as a key focus."
Follow @ConstructionGL
Read the September 2016 issue of Construction Global magazine