Hampshire targets trade growth and sustainable construction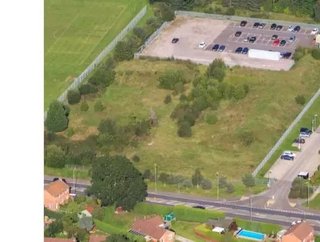 Work on a mixed-use retail and industrial park starts in Fleet as a new recycling plant reuses old materials to fix roads...
MHA has started construction at Beacon Trade Park in Church Crookham, Fleet in the UK.
Acquired by MHA in 2015 , when it was occupied by Vertu as its factory and showroom, the mixed-use retail and industrial park will comprise 32,568 sq ft of retail space to be taken by Aldi and Home Bargain as well as four warehouse units totalling 38,238 sq ft - in addition to surface level parking provision.  
Planning permission for the development, and its two principal units, was obtained in the latter part of 2019 by which time two pre-lets had been agreed with Aldi to take a 20-year lease for 18,568 sq ft and Home Bargains agreeing a 15-year lease for 14,000 sq ft. With limited existing supermarket provision and no current retail warehouse facility in the vicinity, both Aldi and Home Bargains will fill a much-needed void in the area.
Mitchell Design and Construction is the main contractor of the mixed-use development site, which spans 1.76 hectares, and is scheduled for completion in Q4.
Hossein Abedinzadeh, Founder of MHA London said: "We are pleased to have finally started construction of this important development project which will provide the area with much-needed retail and industrial space, in addition to significant employment opportunities. The pre-lets agreed with leading brands, Aldi and Home Bargains, will be a catalyst to the creation of a significant retail and warehouse destination."
Julian Mitchell of Mitchell Design and Construction added: "We are delighted to have been appointed by MHA to deliver this purpose-built development project which will undoubtedly contribute to Church Crookham's growing economy. We look forward to working with all the project partners to provide attractive retail space and warehouse units for the local area."
Hampshire County Council has built a new recycling plant at Micheldever which aims to reuse old road materials for fixing roads, saving 40 per cent of CO2 emissions compared with the previous facility.
Councillor Rob Humby, Deputy Leader and Executive Member for Economy, Transport and Environment at Hampshire County Council, said: "Hampshire County Council has made a commitment to focus on the climate change impact of everything we do, and we now have a dedicated facility operating which recycles material for re-use in road repairs – bringing back material taken up from Hampshire roads during repair, processing it cleanly and quietly, and then re-using it elsewhere on the local road network. With around 5,500 miles of roads to maintain across Hampshire this will make a significant contribution to reducing our carbon footprint, leading the way in sustainable construction."
Within a year, the Micheldever facility aims to deliver a net reduction in CO2 of around 67,500kg by reducing use of virgin aggregates, replacing some warm and hot mixes with cold lay materials and reducing the total miles travelled for highway construction. 
In another project, the £1.6 million makeover of Andover Town Centre has provided new access to the Town Mills car park and made it more attractive for pedestrians and cyclists.