High-speed 'green' rail powers ahead in Asia and USA
As work steps up on Jakarta-Bandung high-speed rail, Malaysia unveils 'green' trains and California approves new 80-mile line
It's been a busy time for the rail industry in Indonesia, Malaysia and Western USA.
The construction of the Jakarta-Bandung high-speed railway "is in full swing" with the completion of box girders across the existing railway in No. 4 Casting Yard on Sunday.
The China Tiesiju Civil Engineering Group successfully erected the girders after three days of work. The group is part of High Speed Railway Construction Consortium led by China Railway International. 
The Jakarta-Bandung high-speed railway is about 142kms long with a maximum design speed of 350kms/h. It adopts the standard technology of China's railway, and is tailored to Indonesia's local climate, road conditions, cultural traditions and living habits of the people along the route. When the construction is completed, travel time between Jakarta and Bandung will be shortened from over three hours to 40 minutes.
The completion marked a breakthrough in the construction of another major high-risk and difficult construction project because it crosses the existing railway. Therefore, it was constructed at night in different stages and box girders were erected continuously several times to avoid trains.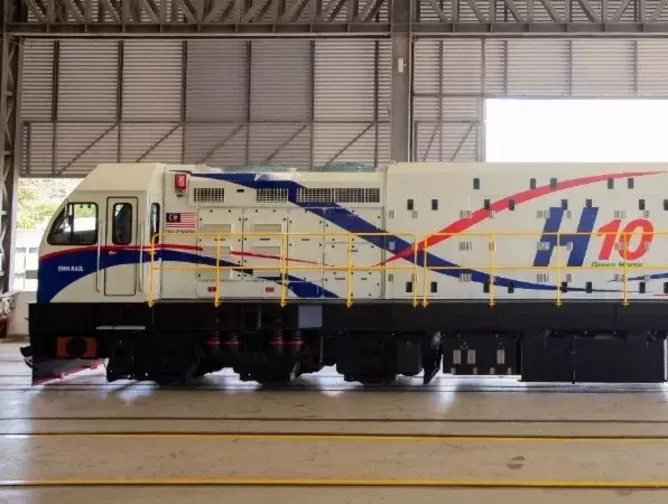 In Malaysia, SMH Rail Sdn Bhd (SMH Rail), a leading rolling stock manufacturer and maintenance service provider, recently unveiled its newly manufactured H10 Series Locomotives. Built with advanced technology and innovation in design engineering, the H10 Series provide an intrinsic value to the environment and railway ecosystem.
With an aim Towards Green Mobility, the trains could replace 100 cargo trucks, reduce carbon emissions by up to 75%, lower highway congestion, and are four times more fuel efficient than road freight transport on average. Its practical design improves operational efficiency, increases haulage capacity and reduces maintenance challenges, resulting in lower overall life cycle costs.
The Locomotives are equipped with remote monitoring and diagnostics solution to provide real-time updates to rail operators, allowing for remote monitoring performance including speed, maintenance needs, fuel consumption and fault alerts. Data analysis tracks negligent handling, reduces risks of failures and improves operational safety.
In the US, The California High-Speed Rail Authority Board of Directors has approved the Final Environmental Impact Report/Environmental Impact Statement (EIR/EIS) for the approximately 80-mile Bakersfield to Palmdale project alignment section.
The action paves the way for full California Environmental Quality Act (CEQA) clearance of nearly 300 miles of the high-speed rail project's 500-mile Phase 1 alignment from San Francisco to Los Angeles/Anaheim. The Board's actions mark the first CEQA certification of an environmental document in the Southern California region.
The section provides a north-south high-speed rail connection between the Central Valley and the Antelope Valley in northern Los Angeles County, closing the passenger rail gap that currently exists between the two regions. The section is designed to accommodate a connection with the Brightline West high-speed rail project to Las Vegas.
"Today's approval represents another major milestone for this project as we move the project into Los Angeles County," said CEO Brian Kelly. "We appreciate the collaboration with our local and regional partners as we work to build a clean, electrified high-speed rail system that will connect our state for generations to come."
The high-speed rail project is currently under active construction in the Central Valley along 119 miles at 35 different construction sites with an average of 1,100 workers daily.