Indonesia construction industry set for 7.2% growth in 2022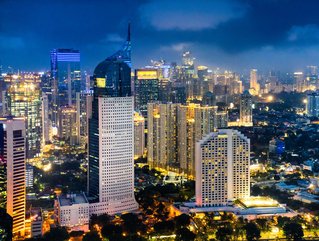 GlobalData report finds Indonesia construction set to prosper from government's US$430bn investment in public infrastructure development by 2024
Indonesia's construction industry is expected to record a growth of 7.2% in real terms in 2022, surpassing pre-pandemic output levels, according to a GlobalData report.
Its Indonesia Construction Market Size, Trends and Forecasts by Sector – Commercial, Industrial, Infrastructure, Energy and Utilities, Institutional and Residential Market Analysis, 2022-2026 expects the Asian country to record an annual average growth of 5.8% in real terms over the remainder of the forecasted period (2023-2026).
This growth is expected to be driven by the Indonesian government's commitment to invest US$430bn on public infrastructure development by 2024 and 2021-2030 Electricity Supply Business Plan (RUPTL).
Willis Rooney, Economist at GlobalData, said the government is expected to continue its substantial planned infrastructure investment, to offset the economic impact of the current wave of the Omicron variant and an expected normalisation of monetary policy by Bank Indonesia.
"In December 2021, the government allocated $27.1bn for infrastructure development in its 2022 state budget, which is expected to support the delivery of six new airports, 6,624km of railway and 205km of new road," he said. "Construction growth will be further supported by the Indonesian Ministry of Public Works' plan to expand its 2,000km toll road network to 5,000km by 2024."
Furthermore, an Indonesian government regulation (Government Regulation 14 of 2022 [GR 14/2021] has revised several provisions of Indonesia's Construction Law of 2007 – these include the simplification of the business licensing process, the obligation of technology transfer by qualified foreign construction workers, and a requirement for employers and contractors to meet the new security, safety and health and sustainability standards set under GR 14/2021.
Having been seen significant disruption over much of the first three quarters of 2021, due to the impact of large-scale social restrictions, there has been a noticeable improvement in construction activity in Indonesia, the report added.
GlobalData's Construction Project Momentum Index (CPMI) accelerated in the final quarter of 2021, rising to 0.49 in Q4 following a CPMI score of 0.3 in Q3 2021. The CPMI is an assessment of the health of the construction project pipeline at all stages of development, from announcement through to completion.
"Project momentum has been relatively subdued during the pandemic, though picked up rapidly in December 2021 and January 2022, following an easing of restrictions. Indonesia recorded the second-highest CPMI score in South-East Asia in January 2022," Rooney concluded.

New Indonesia capital Nusantara presents long-term construction opportunities
Indonesia has announced it will relocate its capital city to Nusantara, on Kalimantan island in Indonesian Borneo, north-east of Jakarta. Construction firms stand to benefit from the long-term project, which is being split into five stages to 2045, and the short-term focus will be on basic infrastructure work.

The government is currently building a dam, water system and roads near the planned "core central government area," which will occupy roughly 6,600 hectares, or 2.5% of Nusantara's total planned 256,000 hectares. Six clusters are in the planning, along with two education and smart city/industrial support clusters (click here), and there will be a strong focus on green innovation and renewable energy.

President Joko Widodo has picked Bambang Susantono, a senior official at the Asian Development Bank, to spearhead his $34bn ambition to turn an undeveloped piece of land in Borneo into Indonesia's new capital, according to Bloomberg. Jakarta, home to more than 10mn people, is likely to remain the country's main business and economic centre.