Infrastructure, ICT and energy central to industry's growth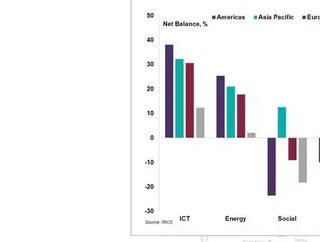 The trend is particularly pronounced in the Americas, where respondents reported a net balance of 38% in ICT and 25% in energy, according to RICS resear...
Infrastructure projects are central to the construction sector's return to growth and especially those relating to the ICT and energy sectors, according to RICS research. 
In a survey of professionals across 30 countries, it found the trend was particularly pronounced in the Americas, where respondents reported a net balance of 38% in ICT and 25% in energy, though sentiment was weaker across EMEA.
Sean Ellison, RICS Senior Economist, said the building blocks for recovery are being put into place, with construction activity growing once more on the back of concerted infrastructure investment and rising optimism. Global law firm Paul Hastings reported its Energy and Infrastructure practice has completed its fifth deal since November.
But Ellison warned desipte the encouraging signs, challenges remain. Profits remain under pressure, with tender prices expected to rise less rapidly than construction costs in all regions. 
"Whilst construction will play a vital role in wider global economic recovery, the sector's recovery is not yet entrenched – nor is it universal across countries. With infrastructure a key driver in leading this bounce back, greater government spending will be vital. Many governments have committed to substantial infrastructure spending, bringing forward shovel-ready projects and we can expect more fiscal stimulus. How effectively this capital is put to use will dictate the speed of our recovery."
Alan Muse, Head of Construction Standards, RICS, said using effective and timely infrastructure stimulus measures to rejuvenate the economy is never straightforward. 
"New build infrastructure schemes are invariably complex with long gestation periods. Concentrating on quick wins in the repair and maintenance of infrastructure may have a more immediate impact on the market and a quicker multiplier effect. In addition, fiscally constrained governments need to attract more private sector investment into this sector and de-risking projects through the application of standards to improve reporting, data collection and predictability is crucial.
"Transparent and prioritised pipelines of implementable design and construction work are key to attracting private sector investment from pension funds: comparing pipelines of projects on a common datum basis using international standards will ensure a consistent and more meaningful approach."
Many engineering and construction firms, starved for work necessary to maintain cash flow and backlogs during the pandemic, are "throwing their hats into more rings than usual" and often quoting projects at increasingly aggressive prices, sometimes seemingly below cost, according to recent McKinsey research.