Sir Robert McAlpine tops out 21 Moorfields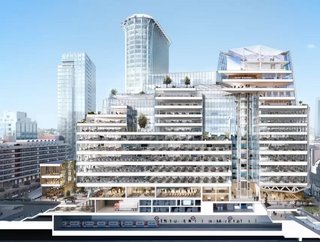 Sir Robert McAlpine tops out 21 Moorfields and the 17-storey building will become the new 560,000sq ft HQ for Deutsche Bank
Sir Robert McAlpine has topped out 21 Moorfields, directly above Moorgate Underground Station in London, representing a significant milestone for the site.
Once completed, the 17-storey high building will become the new 560,000 square foot headquarters for Deutsche Bank. It sits atop a complicated series of piles and steel trusses spanning Moorgate station and a new Crossrail ticket hall.
In keeping with the tradition, bagpipe music marked the start of the topping out ceremony, which was held on the 13th floor of the building, before an evergreen bough was secured to the scaffolding by the main contractor, Sir Robert McAlpine. 
David Heaford, Managing Director for Development at Landsec said: "Since acquiring 21 Moorfields in 2012, we have been committed to delivering a new, high quality, office-led development on one of the most complex sites in London. Whilst the past 18 months have been challenging, the project has continued to make great progress thanks to our incredible team of partners.
"We're delighted to have reached this milestone, bringing 6,000 of Deutsche Bank's employees one step closer to being able to innovate, create and socialise under one roof.
"Once complete, 21 Moorfields will be knitted into the fabric of the city and is part of our wider strategic priority to bring forward significant investment in the capital. Creating more jobs and more economic growth to help the capital recover from the impact of the pandemic."
Alison Cox, Managing Director London, Sir Robert McAlpine, said: "The sheer complexity of building this project in such restricted space, right above a live Underground Station, makes it an engineer's dream. It is also testament to the exceptional collaborative culture at the heart of the entire project team, whose commitment to engineering excellence has been evidenced throughout."
Bob Kay, Project Director, Sir Robert McAlpine, said he was proud of the way the team has managed to overcome the technical and logistical challenges inherent to the design, delivering at the highest standards despite the constraints imposed by the pandemic.
21 Moorfields is expected to be completed in autumn 2022.