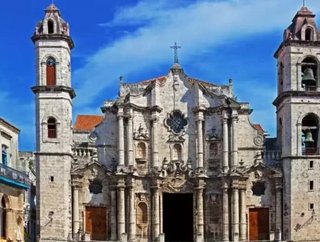 Cuba has risen in popularity as a result of Americas aim to re-establish relations with the country after over 50 years of unrest. Cuba is renowned for...
Cuba has risen in popularity as a result of America's aim to re-establish relations with the country after over 50 years of unrest. Cuba is renowned for its beautiful, elaborate architecture which has been left untouched for over 70 years, creating a sense of deep nostalgia for tourists who visit the country.
We take a look at some of the buildings which continue to amaze both tourists and locals alike which illustrate Baroque, Neoclassical and Moorish influences.
Castillo de la Real Fuerza, Old Havana (1577)
The Castillo de la Real Fuerza is the oldest fort within Havana and is listed as a UNESCO World Heritage Site. Originally built to protect the city from pirates and raiders, the original build was demolished due to succumbing to continual raids which impacted the city. The fort was rebuilt in 1558 at the command of King Phillip II of Spain and completed in 1577.
The build is constructed out of limestone, with 10-metre-thick walls and 30ft high to prevent further raids. Incorporating large embrasures, a drawbridge and a moat, it is a formidable structure, including cannons, bastions and mortars.
In 1632, a tower was built and has become a symbol for Havana, with the addition of a bronze female statue believed to be Dona Isabel de Bobadilla, wife of Cuban Governor Hernando de Soto.
Today, the fort is the home to Havana's Museo de Navegación (Navigation Museum).
Morro Castle, Havana (1589)
Designed by Italian Engineer Juan Bautista Antonelli, Morro Castle is situated at the entrance to Havana harbor. The Castle was originally constructed after several raids and was used to defend the town and its people.
The build took over 30 years to complete due to economic and political disputes. Similar to the Castillo de la Real Fuerza, the build is enclosed by a moat and encompasses two bastions, several cannons and barracks.
In 1762, the Castle was invaded by 44,000 British soldiers, who successfully conquered the build. However, the British returned the castle to the Spanish a year later under a peace treaty. The site is now one of the most popular tourist sites within Havana.
Catedral de San Cristóbal, Old Havana (18th century)
This stunning cathedral has become a UNESCO World Heritage Site. Built by Jesuits until their expulsion, the building was built to cater for the rising number of Spaniards that had converted to Catholicism. The building was renovated between 1946 - 1949 by Cuban architect Cristobal Martinez Marquez.
The cathedral is constructed from coral, sourced from the Gulf of Mexico. Incorporating an elaborate exterior, the cathedral incorporates several curves and pediments, with two asymmetrical bell towers built to ensure heavy rainfall does not create flooding.
A simple, classic interior with marble floors, pillars and use of wood, alongside exquisite Baroque features creates a tranquil space for all to visit and enjoy.
Palacio de Valle (1913)
Situated within the city of Cienfuegos within Punta Gorda lies the brightly coloured Palacio de Valle. Built by Italian Architect Alfredo Colli in 1913, the building is influenced by various styles, with Gothic arched stained glass windows, in addition to Italian, Baroque, Moorish and Romanesque influences. 
The build was originally a townhouse, with eight bedrooms, a music room and dining room all luxuriously decorated. The build is now open to the public, where you can view the landscape from the roof top terrace.
Capitolio Nacional, Havana (1926)
Continuing from previous works set out in 1917, the Capitolio Nacional is one of the largest landmarks in Cuba and can be compared to the United States Capitol in Washington. Finalised in 1929 and incorporating a neoclassical design, the building attracts tourists from all around the world.
Designed by architects Raúl Otero and Eugenio Ranieri, the building is opulent in both construction and design. Home to the Cuban Congress until the Cuban Revolution, luxurious materials have ensured an impressive finish, such as white Capellania limestone, tall granite columns, hardwoods such as mahogany, bronzes and marble have all been utilised in this elaborate structure.
Inside the main hall, the third largest indoor statue can be viewed. The "Statue of the Republic", alongside smaller, impressive statues by Angelo Zanelli highlight the buildings splendour. Measuring 15 metres tall and weighing an impressive 49 tons, the bronze female statue can be compared to the Greek goddess Athena in design, however, the statue is modelled from Cuban Model Lily Valty.
All of these historic, prosperous and vibrant buildings have been influenced by Cuba's turbulent and complex history. Once trade relations between Cuba and America are restored, this will undoubtedly impact on construction and restoration developments within the country, which remain to be seen.
Follow @ConstructionGL
Read the November 2016 issue of Construction Global magazine