UK law firm TLT takes top floor at Glasgow's Cadworks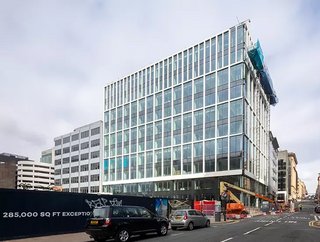 UK Law firm TLT is taking the top floor of Cadworks in Glasgow as construction activity steps up across Scotland
UK Law firm TLT is taking the top floor of Cadworks - billed as Glasgow's flagship sustainable office development - and plans to move in early 2022 following completion of a bespoke fit out.
The firm will occupy 10,000sq ft of space, providing standout views across the city, and enough area for events alongside meetings.
It will be the first of the firm's six UK offices designed from scratch to support agile working, with facilities and tech enabling employees to mix remote working with time in the office. The design also puts employee wellness and space to collaborate onsite with clients at the centre of its plans. 
The development is due to complete in time for the United Nations' COP26 climate change summit in November and will be one of the first net zero office buildings in the city. It will also feature Glasgow's first cycle-in access ramp and extensive cycling facilities, recycled construction materials, and air purifying Airlite paint. TLT will move to its new home
John Paul Sheridan, partner and Scotland location head, said it continues to invest to grow its business in Scotland and the new office is the next step on that journey. 
"Our people are guiding the design so that the space we create reflects our new flexible working approach and allows them to connect, collaborate and innovate effectively no matter how or when they work, as well as providing the space to better support and work with our clients. Critical to that will be the tech we use to connect with clients and colleagues locally, nationally and internationally," he said.
"Cadworks sustainable office design alongside its vision of the wider positive social impact developments like this can have, is an approach that sits well with our own strategic and responsible business priorities. We are looking forward to working with Cadworks in this area in the future." 
Basil Demeroutis, FORE's managing partner, was delighted to announce TLT as the first tenant for Cadworks.
"A firm of this calibre, with a high commitment to environmental and social responsibility, is the perfect fit for our building, which has been designed as one of the most sustainable in Scotland," he said. 
"As businesses rightly focus on bolstering the social, cultural, and environmental attributes of their brand, they are reshaping the way they care for their staff, the community, and the planet. Cadworks helps them to achieve this. We are proud to welcome TLT to Cadworks and look forward to their move to the building."
TLT has broadened its offer with a number of lateral hires in recent years across real estate, construction, and restructuring & insolvency, as well as the promotions of financial services lawyer Louise Chopra to partner and property and commercial lawyer Lucy Harrington to legal director in May this year.
The firm recently announced a partnership with leading sustainability & climate change advisers Carbon Intelligence to progress its ambitious sustainability programme, which dovetails with its Cadworks move.
FORE, a leading real estate developer in Glasgow, and certified B Corporation, is committed to environmental stewardship and social impact, working for the benefit of all stakeholders. It is driven to help Glasgow's most vulnerable communities through its projects. In addition to being a B Corp, FORE has made an industry-leading pledge for its business and operations to be net zero carbon by 2025.
TLT was advised by Phil Reid of Phil Reid Associates. Savills acted on behalf of the landlord.
Elsewhere GAP Group has completed the acquisition of Citypoint 2 on Tyndrum Street in Glasgow.
The independent equipment hire company plans to relocate its current Head Office to the 38,836 sq ft office building, which overlooks the M8 motorway on the northern periphery of Glasgow City Centre.
The family business has outgrown its current base in the city and the new Head Office is key to expansion plans for the company, which employs more than 1,800 people across 145 locations in the UK, with a turnover in excess of £220m, with plans to double in size over the next six years.
Douglas Anderson, Joint Managing Director of GAP Group, said GAP's Head Office has been located at Carrick House for over 25 years, where it originally started out with just 17 employees, and this has now grown to almost 200 staff.
"For this reason and to accommodate further expansion, our new office, based in the north of Glasgow city centre and twice the size of Carrick House has been purchased. A key use of the extra floorspace will be for data interrogation and logistical support to drive efficiency," he said. "We are completely refurbishing this building and are determined to create a state of the art working environment for all current and future employees."
Construction at the flagship National Manufacturing Institute Scotland (NMIS) facility, at the heart of the Advanced Manufacturing Innovation District Scotland in Renfrewshire, has reached a major milestone with the installation of 1,500 tonnes of structural steel now complete and the building on schedule to open in Autumn 2022.
The milestone was marked by a bolt tightening ceremony, which saw Professor Sir Jim McDonald, Principal and Vice-Chancellor of the University of Strathclyde, operator of NMIS, tighten the final bolt in the frame.
John Reid, CEO of NMIS, said: "The past 18 months has been an extremely challenging time for many manufacturers, but as we come out of the other side, we are here to help them access technologies and expertise that will help them overcome problems, exploit new opportunities, increase productivity and boost the skills of the workforce."
Engineers from the University of Glasgow in Scotland have developed 'worm-like' robots which could potentially be used on construction sites. The team believes that the idea may spawn more robots with the capability to work in hard-to-reach places (click here for more details).