How 3D modelling and drones are restoring landmark US bridge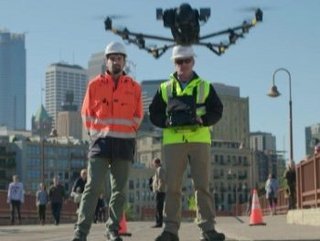 Collins Engineers used Bentley System's reality modeling software to create an accurate 3D model of the Stone Arch Bridge in Minnesota
Spanning the Mississippi River in downtown Minneapolis, Minnesota, the 140-year-old Stone Arch Bridge is a former railroad bridge-crossing recognised as a National Civil Engineering Landmark.
The bridge needed to undergo a Rehabilitation project, its first significant restoration in decades. Currently in the final design phase, construction is slated to begin this spring, and includes refurbishing or replacing all damaged stone on the arches, embankments, piers, and underwater foundations. In addition, all mortar joints, drainage weeps, and metal tie rods will undergo reparation.
Scour and breakwater protection will also be installed at the pier bases to mitigate sediment erosion. Ensuring that fast-flowing water does not carry away the soil surrounding the foundational piers will abate bridge failure.
"There is no immediate worry the bridge would collapse, but without the proposed repairs the risk of collapse could become more worrisome," said Barritt Lovelace, director of unmanned aircraft systems (UAS), artificial intelligence (AI), and reality modeling at Collins Engineers. "Repairing the bridge now ensures there will not be a more significant repair project in the near future."

Accurate information regarding the condition of the masonry and mortar joints was required to develop precise repair plans and calculate costs. In addition to undergoing a traditional inspection process, Collins Engineers used Bentley System's reality modeling software to create a high-fidelity 3D model of the Stone Arch Bridge from over 13,000 images taken from unmanned aerial vehicles.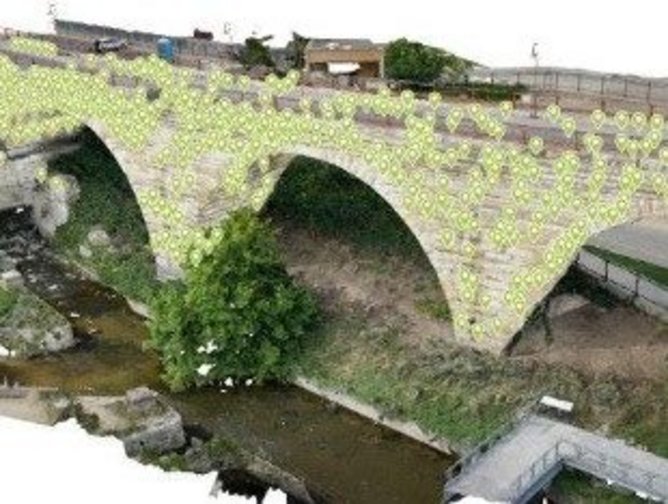 Analysis of the 3D model pinpoints the areas in need of repair.

Supplementing traditional inspections with reality modeling increased and enhanced the data collected on the bridge's structural condition. Detailed information allowed for more accurate construction bids, which will save the taxpayers 10-15% on construction costs.

Using advanced technologies to survey the pedestrian bridge allowed Collins Engineers to shorten the time the bridge was out of service during inspection, enabling them to only close the pathway for four days. "While performing UAS inspections in the field we had numerous individuals from the public show interest in our work," said Lovelace.

​​​​​​​"Their feedback was always positive, they appreciated the high-tech approach to such a historical structure, and they also appreciated that utilising UAS and modeling reduced the impact to the public by being a less intrusive method of collecting inspection data."

Likewise, engineers will reference the 3D model during construction so repairs can be made confidently and quickly to limit the time the bridge is unavailable for public use. After the project's completion, the data and digital twin are anticipated to be linked to the bridge's inspection record and used for the lifecycle of the Stone Arch Bridge. Through this capability, engineers can base their planning and maintenance decisions on up-to-date structural integrity information.

"Rehabilitation of the Stone Arch Bridge will ensure this public asset will continue to serve as a historical icon for the City of Minneapolis and as an important pedestrian link for many decades to come," Lovelace said.