Leeds Beckett and Aggregate Industries focus on injury risks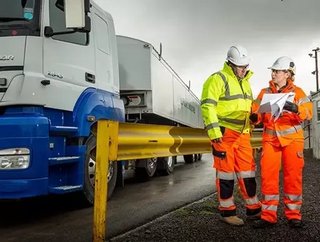 Leeds Beckett University and Aggregate Industries team up with Knowledge Transfer Partnership (KTP) project to reduce transport-related injuries
Psychologists at Leeds Beckett University have joined forces with Aggregate Industries in a new Government-funded research and innovation project to reduce work-related risk in the construction materials industry.
Headquartered in Leicestershire, Aggregate Industries is home to everything from aggregates, asphalt, ready-mixed concrete, cement and precast concrete products. With more than 200 sites and around 3,700 employees across the UK, it is one of the largest suppliers to the UK construction and infrastructure market.
The new Knowledge Transfer Partnership (KTP) project will see the academic team at Leeds Beckett and Aggregate Industries work together to develop, implement, and embed a formal system to reduce the risk of workplace transport-related injuries across all sites of the organisation. The two-year project, part-funded by Innovate UK, is the first step in a long-term, strategic shift in how the business manages and prioritises safety in the workplace.
The project will be led by Dr Jim Morgan, Co-Lead of the Psychology Applied to Safety and Health (PASH) research group at Leeds Beckett. He explained: "In common with the rest of the construction materials industry, Aggregate Industries' (AI) employees work in high-risk, safety-critical environments, with a significant number of activities involving the operation of heavy excavation and transportation machinery - typically in challenging environments such as quarries. AI has a long-term goal of achieving 'zero harm' in its workplaces.
"The minerals industry's safety management has been based largely on 'lagging' safety indicators – retrospectively examining incidents and injuries in an attempt to reduce future risk.
"In this project, we will enable AI to be the first in the industry to develop and embed an academically robust and strategic approach to safety management. We will do this by designing and implementing a system which proactively identifies safe and unsafe behaviours.
"This Safety Behaviour Identification and Intervention Protocol (SBIIP) will allow AI to fully understand the underlying factors that influence workplace safety. We will then develop data and theory-driven safety behaviour change interventions – with the ultimate aim of reducing future incidents and preventing fatalities."
Mike Belson, Director of Health, Safety and Environment at Aggregate Industries, said: "The safety of our colleagues has always been one of our core values and we are constantly seeking new ways in which we can improve processes to reduce risk. While retrospectively assessing incidents and learning from these experiences definitely has its merits - to understand behaviours, be able to proactively eliminate risks, and identify opportunities to 'create safety', is a major step forwards.
"This partnership with Leeds Beckett is the start of a long-term, strategic shift in how we manage workplace safety. This is not just something we want to benefit Aggregate Industries, but we want to be able to introduce a new best practice to our contemporaries across the industry."
The proposed SBIIP will give AI a commercial edge on competitors as well as supporting their strategic aim to be the safest company in the industry. The academic team will consist of:
Dr Jim Morgan - an expert in human factors and occupational health psychology;
Dr Matteo Curcuruto – an expert in behavioural safety in large, complex, safety-critical environments and Co-Lead of the Psychology Applied to Safety and Health (PASH) research group; and
Dr Trish Holch – an expert in the application of health psychology behaviour change frameworks.
Marketing psychologists at Leeds Beckett will also support AI's in-house marketing and communications team in devising an internal marketing campaign to inform and engage the company's workforce around the new SBIIP.
The KTP will begin with the recruitment of a KTP Associate, who will be a graduate with a masters' degree in psychology or a PhD. The Associate will be based full-time within AI throughout the duration of the project, with the full support of the academic team.
Knowledge Transfer Partnerships (KTPs) aim to help businesses to improve their competitiveness and productivity through the better use of knowledge, technology and skills within the UK knowledge base. Click here to read Innovate UK's Transport Vision 2050: investing in the future of mobility.
Each year about seven workers die as a result of accidents involving vehicles or mobile plant on construction sites on average, and a further 93 are seriously injured, according to the Health & Safety Executive.
"The key message is construction site vehicle incidents can and should be prevented by the effective management of transport operations throughout the construction process," it states.