Volvo expands electric excavators and wheel loaders in USA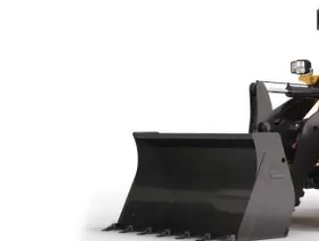 Electric models run on lithium-ion batteries, can be charged using a 220/240-volt electrical socket and come with fast-charge options
The Volvo ECR25 Electric excavator and L25 Electric wheel loader will be commercially available in the U.S. this year.
They run on lithium-ion batteries, can be charged using a 220/240-volt electrical socket and come with fast-charge options that can get them close to peak charge within a couple of hours (the L25 is pictured).
Research and development are moving fast in this area, and in the near future options like mobile power banks could be available for charging in remote locations.
Compact excavators and wheel loaders are more commonly used in light applications, like utility work, landscaping and agriculture. Their batteries hold enough energy to allow them to perform a typical day's work.
The next step for the industry will be electrifying medium and large machines. Already efforts are underway in this area as illustrated with the 22-tonne EC230 prototype electric excavator.
"Our customers will not notice a difference between the power and performance of the electric machines versus the diesel models," says Lars Arnold, Volvo CE Electromobility Product Manager. "In fact, they'll enjoy several benefits with the electric machines thanks to the lack of a diesel engine, including lower noise, less machine vibration and no exhaust fumes."
Baltic Sands Inc., which specializes in environmentally sensitive, luxury property development and real estate, has been using an electric excavator and wheel loader on Southern California projects over the past several months as part of a pilot with Volvo CE.
"My opinion is that they perform equally to diesel machines in terms of the productivity. It's surprised me," says Jacques Marais, Director, Baltic Sands. "They also support our ideology of being eco-friendly and responsible. We like to think that we are ahead of the evolutionary step in this direction."
The South Coast Air Quality Management District, which has a long history of supporting the development of innovative solutions, put $2 million toward the pilot project.
"This is a great opportunity to see electric excavators and wheel loaders in real-world applications," Benoit says. "It's also an opportunity to further develop the charging systems. These are all important pieces to that puzzle to help figure out how to deploy this technology." Volvo CE plans to release results of the pilot project this summer.
The ramifications of electric construction equipment are likely to be felt beyond the construction industry. Because of their low noise and zero emissions, they could be used in applications where construction equipment has traditionally been impractical, including indoor settings, orchards and fish hatcheries.
Advances in electric construction equipment can help other EVs, and vice versa. Volvo Group recently created a new business unit to support innovation in batteries and charging infrastructure. Volvo Trucks is leading the trucking industry into electromobility, and their learnings benefit construction equipment too. The same is true of Volvo Buses, whose electric buses are reducing emissions and noise in cities.
The societal impact of these advancements should be significant. With the construction industry responsible for a significant portion of the world's greenhouse gas emissions, it has an obligation to bring solutions.
"The construction industry is on the cusp of a major transformation," Gallant says, "and in turn, it will have a major effect on the entire world."
According to Global Industry Analysts Inc, the global market for freight trucking reached $4.2 trillion in the year 2020 and is projected to reach $5.5 trillion by 2027.
In 2020, the US road freight market reached an estimated $1.1 trillion. This, coupled with the fact that road freight accounts for 7% of global CO2 emissions, has resulted in an overwhelming demand for long-term sustainable transport solutions. 
SEA Electric, which partners with commercial vehicle OEMs, dealers, operators and upfitters to deliver a new range of zero-emissions trucks, is on schedule to deliver more than 1,000 electric commercial vehicles this year (click here).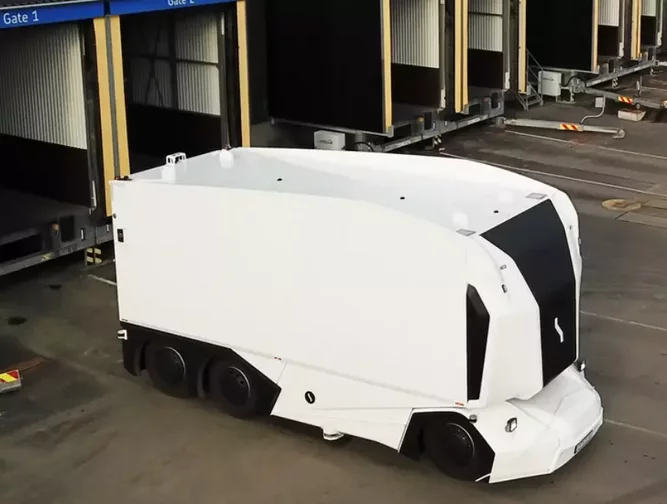 Einride (pictured above), which is developing electric and autonomous freight mobility technology, has raised $110 million Series B funding from new investors Temasek, Soros Fund Management, Northzone, Maersk Growth and Build Capital. Existing investors EQT Ventures, Plum Alley Investments, Norrsken VC, Ericsson and NordicNinja VC also participated in the round. 
Ford expects to boost annual production of the electric F-150 to 40,000 vehicles or more, starting in 2023, according to Reuters.