AECOM : Engaging stakeholders through technology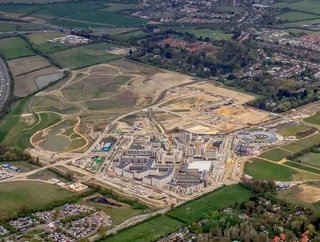 Ranked as one of the World's Most Admired Companies since 2015, AECOM is behind a number of landmark projects, such as Marlin's Park in Miami and th...
Ranked as one of the World's Most Admired Companies since 2015, AECOM is behind a number of landmark projects, such as Marlin's Park in Miami and the Woodrow Wilson Bridge in Maryland. With a highly diverse portfolio, Associate of Infrastructure and Sustainability Suzanne Scobie speaks with Construction Global about the use of technology throughout the industry.
"I enjoy the variety and diversity of the projects we get to work on and the people I meet," she says. However, the role of designers and architects are becoming increasingly complex, where companies are having to take into account not only building upwards, but encapsulate the effects of providing strengthened infrastructures through the development of new roads, drainage systems and access to utilities with new residential and commercial builds. With various challenges, such as access, water and drainage, AECOM is utilising a number of technologies throughout the construction and design process, alongside the creation of new and developing infrastructures.
One notable project under AECOM is the North-West Cambridge project at the University of Cambridge, UK. The largest development the university had seen in 800 years, the project required over a thousand new homes for staff and students, alongside new infrastructure works to connect with communal facilities, such as a new school, research facilities and hotel. All developments had to be linked to new and existing infrastructures and vital transport networks within the UNESCO listed city. 
"We developed a network of drainage infrastructure and looked at site levels, designed corridors for water and landscaping and provided integrated solutions," explains Scobie. "We looked at a series of solutions to create land forms in various corridors to look at floodwater, maintaining where water would go, how the material will be stored, what we would do with the water and created platforms at the side of the hill." By looking at different modelling tools and techniques to develop solutions in consultation with landscape ecologists and river modellers, AECOM was able to provide key resolutions.
Client engagement
Through utilising new technologies, collaboration and client engagement has increased, enabling a reduction in amendments and client change down the line. Technologies such as VR has enabled clients to look at road and building schemes visually and ultimately be in those spaces. "You really get that sense of engagement with the public, stakeholders or at consultation events," adds Scobie. "People can get much more of a sense of what the scheme is going to look like then the traditional engineering drawings of 20 years ago."
Building upwards, not outwards
With increased pressure for space in cities, land prices have skyrocketed, with developers wanting to obtain the best value from their investments. However, building in a developed space is fraught with challenges, where any potential issue could see costs steadily inflate. Existing buildings are also expensive to redevelop predominately as a result of location, besides new builds, where the ability to access construction and infrastructure works remains a key factor.
"Historically, for example, you wouldn't have built over a station, which is now happening more," explains Scobie. "Stations are being redeveloped above ground, as well as below ground. It's trying to create spaces and create infrastructure to enable you to do things later." The need for developed spaces to remain flexible and accommodate different types of usage is becoming increasingly vital, in order to enable the construction of future developments. Therefore, finding roots which will fit within existing infrastructures is a recurring problem.
In some projects, minimal information available within previously developed works can become complex. Scobie explains that where a site has previous piles, new ones may need to be installed  and without relevant information on the existing piles, there is a potential need to remove the existing infrastructure, therefore inflating costs through the removal of hazards on site. 
Sustainable focus
The subject of sustainability has gained significant momentum over the last couple of years with how new and existing builds will become integrated within ecosystems. Green energy, for example, will help reduce emissions and prove advantageous within dense spaces, enabling builds to be reused and redeveloped in years to come. One such example, Scobie explains, is recycling surface water within construction works. She states that designers aim to "provide spaces for trees and landscaping, looking at water sensitive urban design and ensure that water is something that can be appreciated." Through the North-West Cambridge project, roof water is now stored in lagoons and recycled back into the system and redistributed to homes to flush toilets. Such efforts can also reduce the volume of water which traditionally may have been fed into sewers, which are at risk of becoming overloaded. "Using this on a wider scale in cities, there may be other benefits which can come from dense developments," she adds.
However, one key challenge within the North-West Cambridge project was the management of refuse that will be generated by the future development. With a series of underground bins in chambers, refuse has to be lifted out and onto vehicles. Therefore, AECOM adopted a network of utilities and drainage which all had to be coordinated. However, AECOM on behalf of the University needed to secure the approval of the local highway authority for the street corridors, where details were requested so that all parties knew all landscaping and engineering concepts and solutions were deliverable. As a result, 3D models were utilised to provide key client engagement and ensure key results. "There is no one prescribed solution that fits all. It's all about listening to different stakeholders, putting their various constraints together and looking for opportunities," Scobie adds.
With this in mind, AECOM is utilising Civil3D, Infraworks, Navisworks and Virtual Reality across a number of new projects which is enabling clients and stakeholders to view how a finished build would look within a real-world environment through the incorporation of aerial photography.
Attracting new talent
Trying to appeal to new and upcoming talent within construction and engineering is an uphill challenge within a somewhat traditional industry. However, Scobie explains that she "enjoys promoting civil engineering" in her role as a Supervising Civil Engineer, in addition to becoming Chartered with the Institution of Civil Engineers (ICE). To provide supportive and engaging information, Scobie utilises 3D models to explain how civil engineering plays into building and design, "but also what happens below ground and how drainage networks, street lighting, traffic  signal ducts and other utilities fit together" within new developments. 
Through exploiting new technologies and bringing design solutions forward, AECOM continues to produce works which make a difference, giving real understanding to clients and stakeholders within ongoing and future projects. "It is really important to communicate clearly with our clients, to end users and stakeholders and the tools at our disposal make it easier to do this faster than we ever have before," concludes Scobie.