Congrid: safety and quality assured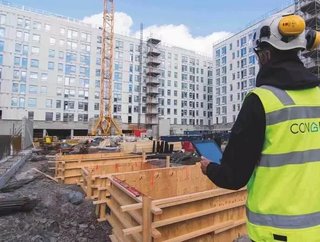 Construction Global hears from Congrid CEO Timo Makkonen on how the Congrid Live platform can enhance productivity with mobile tools tailored to support...
Construction Global hears from Congrid CEO Timo Makkonen on how the Congrid Live platform can enhance productivity with mobile tools tailored to support construction supervision of documentation and inspections.
Congrid began life in 2012 with two site managers who could see the importance of embracing digital tools for construction. Working in the field of quality assurance in Finland they realised the sector wasn't taking advantage of the latest technology via smart phones and tablets. Founder & CEO Timo Makkonen explains to Construction Global the systems available weren't suitably transparent for safety and quality inspections of site work: 
"Our comprehensive solution for construction quality and safety management combines the expertise of construction professionals and software developers."
Congrid is the market leader in Finland, boasting more than 100 customers and new orders across the Nordics. "We have site-proven solutions," confirms Makkonen. "The key to our system is that we have a platform in place which enables collaborations and transparency when it comes to monitoring quality and safety. When the sites collect data, you can share photographs of defects or quality inspections; it's all structured and organised. This way the data can be utilised later for analytics or data visualisations. Congrid also enables subcontractors, main contractors and developers to collect the data, and be an integral part of a cooperative effort to improve construction quality."
Makkonen and his team believe in the power of platforms and the economies which can be built around individual solutions. "We are investing in our APIs to be available on whatever platforms the industry is using," he confirms. Allied to this, Congrid is focusing on the implementation of data via the Internet of Things (IoT) to support its quality monitoring offering. "We predict that in the future IoT data will be supplemented by some kind of machine learning to help project managers understand the insights and utilise them. For example, we can look at how concrete or painted walls dry before the next phase of work begins." Makkonen highlights the flexibility of an approach that does not have to always rely on physical inspections throughout building phases. During winter in Finland the temperature can drop below -10 degrees; here IoT sensors could detect something as simple as an open door making it too cold for paint to dry.  
Read the latest issue of Construction Global here
Collaboration is key for Congrid moving forward… "We are utilising industry R&D as opposed to a customer specific approach," explains Makkonen. "On the business side, we select vendors who will provide supplementary additions to our system and more value for our customers. For example, with the Internet of Things (IoT), open platform thinking is helping us connect the dots to move forward." Congrid is working with eGate Smart Building Innovation here for data visualisation.
eGate enables real-time, wireless-based surveillance of the condition of structures and air on the construction site and buildings in use. The builder can monitor works such as the temperature and drying of concrete with remote devices. "Our collaboration enables Congrid's customers to read the condition information of a construction site or building straight in Congrid, ie the same location as other project documents and information," says Jarkko Haukijärvi, CEO of eGate. "Cooperation with eGate is a natural continuum," adds Makkonen. "Sensor information complements the Concreting Protocol and Congrid's Quality Management Package. Our job is to provide the builder with a good, stress-free night's sleep."
Makkonen believes that due to its more stringent health and safety laws Finland is marginally ahead of the UK in its approach to quality and safety management. Congrid's UK launch will push the boundaries and responds to the need for a customisable platform that doesn't require hard coding to make changes. "Making site work transparent is our message, and it's a big differentiator as we contribute towards the changing culture of construction," says Makkonen. 
"Our solution is adaptable; it links to company-wide settings and follows their processes, regardless of the size of the company or project."
While recognising the challenge of Congrid's expansion from the Nordics, Makkonen believes keeping focused on quality and safety management is the key to keeping its product in place. "There are technical temptations," he concedes. "And of course, scaling is something that needs vision and the right people on board to drive it. We will concentrate on the actions which add value for the customer, and retain that customer focus."
Data driven decision making is a key trend in construction and one Makkonen is keen for Congrid to exploit. "People are looking to understand the value of data and find ways to visualise it," he says.
"Our customers are keen to find ways of using machine learning to predict errors in the future. They're asking us to help them view findings in a concrete way or, if they're doing this themselves, leverage that data via API."
"We have that API in place so customers can build their own screens. We're also building the visualisation platform to help our customers who don't have the IT department so they can have a cost-effective solution in place with our system."
Congrid's short term goal is building a stable platform for its UK expansion to bring new customers on board, while continuing to develop across the Nordics. "We're working on a big light rail project in Finland," confirms Makkonen. "This fast tram line will connect the eastern and western metropolitan areas of Helsinki." The second phase of the West Metro will see five stations built, along with 14km of rail lines and an underground metro depot. "Building one station equals the size of a shopping mall, but underground," reveals West Metro's Construction Director Tero Palmu. "We need solutions to manage and monitor the whole entity. For sites, Congrid works well." Congrid is also involved with one of the biggest projects currently underway in Finland where several skyscrapers are being built in the Helsinki district of Kalasatama.
Congrid is bringing a wealth of experience from the Nordics to its UK launch. "I'm proud to say that almostall new hospitals in Finland are built with Congrid. It's also become a major part of projects building two new districts including skyscrapers and train stations," reveals Makkonen. "Different companies are involved, but all are using Congrid. Property developers are also starting to demand our solution must be used for quality and safety assurance." Makkonen predicts solutions like Congrid will become the industry standard tools of the future. "It's evident these new systems must be able to talk to each other and that customers will need the big picture in place," he adds. "Then, we'll see a move towards combining data which will offer greater efficiency compared to using several systems. I can assure you that this is only the beginning. Our goal is that our customers will be able to use the various technologies available on building sites as an integrated part of the Congrid system."