Construction industry: tough job, rugged phone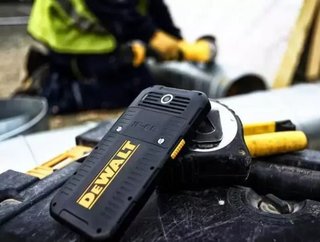 We live in an increasingly-mobile world. Mobile technologies have revolutionised the way we live, shop, travel, learn and work. In the last decade, as c...
We live in an increasingly-mobile world. Mobile technologies have revolutionised the way we live, shop, travel, learn and work. In the last decade, as consumer demand for the latest smartphones spills over into the business world, companies have become increasingly reliant on everything mobile can provide, including the ability to boost productivity, improve communications and help to mitigate risk within the workforce. In fact, research conducted by mobile operator Vodafone found that two-thirds of small business owners and employees surveyed claimed that their mobile is now essential to the running of their organisation.
Not surprisingly, mobile is part of the business technology agenda for most companies and construction firms are no exception. In a study of 600 construction professionals by Sage Software, over 80% claimed that mobile technology is a moderate or high priority. The growing dependence on mobile technology can be seen throughout construction businesses, as managers rely on the technology to deliver everything from field communications to asset management and automated workflow efficiency. 
Tough enough
Anyone working in the construction industry can tell you they spend more time out of the office than in it. Construction workers are often out on different sites and dealing with changing conditions all day, yet they require the same mobile functionality as their office-based counterparts. Unfortunately, however, the latest iPhone and Samsung devices used by their colleagues tucked up in their offices are not durable enough for the construction site.
For construction workers, a device must be able to withstand the daily life of a foreman working on site all day and all that comes with it – be it drops and spillages, punctures, scratches, dust or water submersion. Consumer smartphones may be attractive and now boast IP ratings but they are too fragile to survive in these environments. Professionals who are entirely dependent on their phones to get the job done, whatever the weather or location, need the peace of mind that their phone won't be water damaged, suffer a cracked screen, or lose signal or battery.
A connected device is inadequate unless it is robust, reliable and rugged. Rugged phones on the market are built with the construction industry in mind. They are less easily damaged than today's latest smartphones, and many are MIL-STD-810 tested so can withstand drops from two metres onto concrete; extreme temperatures; chemical spillages and vibrations.
Seamless communication
Like other industries, construction is increasingly reliant on real-time updates and the constant connectivity offered by mobile technologies to improve operational efficiency. Due to the complex nature of construction projects, they require the involvement of multiple disciplines; from builders, architects and designers to engineers, investors and legal teams. All skillsets working on a project need to be in constant communication to ensure the job runs smoothly, whether it's releasing updates on blueprints, sharing diagrams, images of a building site, tracking where equipment is or to supply orders.
These professionals are often entirely dependent on their phones for essential services that allow this real-time visibility including email, Google Sheets, invoicing applications and OTT messenger apps such as WhatsApp. If a device is broken or has a dead battery, the communication between teams is lost and the device is rendered useless – hindering productivity and potentially halting critical business operations.
The standardised features offered by a rugged smartphone can help workforces stay connected. Near Field Communication (NFC) capabilities can provide those out in the field with the real-time visibility needed to manage construction operations successfully and avoid project delays. Teams can provide instantaneous updates on job progression and completion – if one team is running behind or repairs to equipment are needed, managers can re-appropriate resources quickly and efficiently. Other functions, such as push-to-talk, push-to-message and push-to-locate, allow instant communication between managers and their teams, and the whole team, on or away from the construction site, can be made aware of changes to job rostering or project progression right away.   
Duty of care
Ensuring team communication and seamless connectivity may streamline businesses processes, but the most important concern for construction managers when implementing mobile into workforces is the ability to verify lone worker safety. Data from the UK's Health and Safety Executive (HSE) showed that there were 43 fatalities amongst construction industry workers in 2015/2016, making construction one of the most dangerous sectors to work in. With workforce safety being a major concern for managers, they need the peace of mind that they have the right tools in place that can provide consistent and reliable communication between employees and management, as well as the emergency services, should an accident ever occur. A durable and robust handset, armed with an IP68 rating and other ruggedised features such including toughened Gorilla Glass can give a construction manager confidence that the device will perform and survive in the toughest of working environments. 
Furthermore, specialised rugged devices can be installed with a Lone Worker Protection App. This allows a worker to set one of the device's main and easily reached buttons with panic alarm functionality. Should they get into trouble whilst working alone, this function offers an audible and text alarm, sending a worker's GPS location and alert message to their manager or colleague. For construction workers working at height, an accelerometer function can also be pre-configured to trigger an alarm if the employee suffers a fall.
The right tool for the job
Projections by the UK Commission for Employment and Skills reveal that in the next decade, the construction industry will see faster employment growth than any of the other major business sectors. As the industry expands, managers will need to employ technology that not only ensure streamlines connectivity throughout firms but also ensures the safety of their workers. Mobile has the potential to provide all of this, but for construction workers the latest technology cannot be truly harnessed unless a phone is rugged enough and robust enough. A device that is easily water-damaged, has a short battery life or fails to support a lone worker in an emergency situation, is insufficient for today's construction worker. Investment in a rugged handset is a small price to pay for the benefits that a company could see if they choose to embrace this technology
Read the March 2017 issue of Construction Global here