Katerra: breaking new ground in the building industry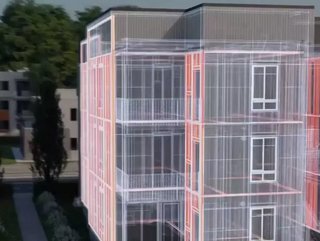 With over 300 pipeline projects and a global team of over 8,000, we explore Katerra, a company that is enabling smarter building to achieve better livin...
Founded in California in 2015, Katerra has been transforming the construction sector through the power of technology. It's CEO, Michael Marks, has a wealth of experience and knowledge. Marks is a former CEO of Flextronics and former Tesla interim CEO.
At the beginning of 2018, the company received an investment of $835 million from Softbank, made from the vision fund.
What does Katerra do?
Katerra is known for manufacturing large building components off-site, created primarily for multi-family housing. An example of this is the company's ability to fabricate a wall in its entirety (including windows) off-site for final assembly on the construction site itself. This technique is known to bring higher efficiency and reduced costs, and the company claims higher-quality finishes.
The firm is also known for its use of mass timber construction. In addition to this, it also manufacturers mass timber products including cross-laminated timber and glued laminated timber. The company purchased Michael Green Architecture (MGA) two years ago.
Fast forward to now, the company has around 700 projects underway with hundreds more in the backlog. Katerra also plans to build up to 14 large-scale distribution centres across the United States.
Vision and Approach
The construction industry is one of the slowest industries to grasp the latest technologies and embrace digital transformation. Katerra it doing its bit to speed up this process. The company aims to transform construction through technology including every single one of its processes.
The company stresses that "incremental progress isn't enough" and is "pursuing transformational change on a massive scale".
With the power of technology comes responsibility, and at Katerra sustainability is taken seriously. The firm is developing solutions that not only boosts productivity in the industry, but also reducing the carbon footprint of the sector whilst providing affordable housing to reduce shortages.
Products
Made from manufactured assemblies and components, Katerra's building platforms are available with 1000's of unique design configurations to suit a range of needs and applications. In addition to this, the firm proves a 100% complete bill of materials from annoying such as wall panels to casework systems, bathroom kits and much more.
The company's structural systems include truss assemblies for floor and ceiling, exterior and interior wall panels. Katerra's innovative solution can provide significant cost savings when compared to traditional framing. On top of this, floor systems can be installed within hours.
SEE MORE:
The company says the use of its cross-laminated timber " represents the next generation of high-performance building technology that will fundamentally change the way we build". The timber is also considered cost-competitive and fully renewable, with superior strength to weight vs steel or concrete.
More of the companies products including KOVA Comfort Intelligent HVAC designed to reduce energy consumption whilst enhancing the living spaces for occupants. Moving on from this, the company's KOVA windows are quiet, durable and energy-efficient.
Finally, its fixtures and diminishes delivers a perfect balance of design quality and value which is very hard to beat.
Katerra has a huge range of products. You can take a look at the full range on the website with much more details in terms of specification and application.
In addition to all of the above, the company offers an AEC software solution called Katerra Apollo, has the ability to provide teams with persistent data from start to finish of any given building project. Find out how the platform is transforming end-to-end building delivery here.
Don't forget to check out the website here to see what Katerra can do for you.
Check out the latest edition of Construction Global for more news and insights surrounding digital transformation in the industry.
Follow us on LinkedIn and Twitter.
IMAGE CREDIT: Screenshot from the Katerra website