Attract and retain: Employee well-being in construction
By Neeral Shah, founder and CEO of YardLink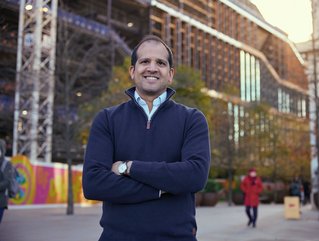 82% of builders in the UK suffer mental health problems due to work-related issues.
Neeral Shah of YardLink explores how mental health challenges in the construction industry and how companies can best prioritise employee well-being
Retaining talent is critical to business success. Yet, many overlook just how important promoting employee well-being is when it comes to retention.
In fact, according to a new study on mental health in construction, 82% of builders in the UK suffer mental health problems due to work-related issues. As such, a significant portion is considering leaving the industry in the next few months citing poor mental health.
If we, as an industry, want to stem the impact of the chronic staff shortages we're already experiencing, prevent more workers from leaving the sector, and look after our people, employee well-being must become a priority.
With attention turning to mental health this week, it offers our industry an opportunity to reflect on how we can further support the people that make up this sector.
Giving staff the tools they need
While other industries are using digital tools to drive efficiencies across their businesses - in construction, most processes are still being managed over the phone, on email or even via pen and paper. Needless to say, relying on time consuming manual processes creates stress and overwhelm. Especially, when projects are complex and involve multiple different stakeholders, expectations, and moving parts.
Countless other global industries - from Energy and Utilities to Hospitality - are continuously investing in the tools they equip their staff with, because they want to attract and retain today's talent.
Good salaries alone are no longer enough - employees expect access to tools that help them do their jobs as efficiently as possible. This is particularly true of the younger generation, as they tend to be more tech-savvy and conscious of their mental health. Similarly, they are attracted to flexible, collaborative work environments.
Construction really shouldn't see this trend as an insurmountable challenge. Nor should it see unpredictability as a given in the industry. Just like it's happened in the past in other industries, another way of working is possible.
Giving employees tools to make procurement more time efficient not only helps projects run more efficiently. It gives people peace of mind too. Having visibility over priorities, what equipment and materials they need, when they need them, and for how long, is crucial in reducing stress.
Utilising technology also unlocks more flexible working opportunities as employees no longer have to spend every day in the office, on-site, or with partners. While in the construction industry many of the roles will likely have a physical aspect to them, technology enables the accompanying admin and meetings to be done from different locations.
This added flexibility enables everyone to be able to build a life around their work, not work around their life.
Meaningful initiatives
Different companies, depending on their culture, are also taking different approaches to attracting and retaining talent.
In my experience, creating an effective onboarding process is key to preserving an employee's wellbeing. We've learned time and time again that employees that can get under the skin of the business from the start are definitely more likely to be engaged and happier.
And rest assured: happy employees mean everything for a business. Research has shown that happiness at work reduces stress and boosts productivity by as much as 31%, whilst enabling a positive working environment for employees.
So, to create an effective onboarding process, businesses must first ensure that new employees have the right tools, support, and materials to successfully undertake their role. And, it's important to cater to individual needs.
If an employee is partially sighted for example, ensuring that they have the right equipment right from the start is key in making sure everyone feels welcome and included. Creating an inclusive and supportive environment, which every employee experiences as soon as they start, helps boost wellbeing.
As for employees that have been at the company a while, regular performance reviews and providing training opportunities ensure employees have a clear progression plan, helping bolster retention rates. When employees feel supported in their development, they become more loyal to the business, but their general wellbeing also increases as it's clear the business is investing in them.
Getting a pulse on your team
Finally, when it comes to boosting employee well-being and attracting and retaining staff, we can't ignore the power of listening to our employees and understanding the challenges they face. Listening is powerful - it creates strong connections.
But, it also highlights what employees need to thrive. It's only by taking the time to understand their reality that we can put in place the right support systems that really help bolster employee well-being.