GCC's first dedicated marine research & rescue centre opens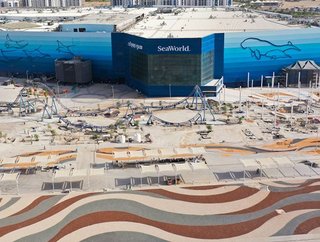 Miral and SeaWorld Parks & Entertainment open dedicated marine research, rescue, rehabilitation, and return centre on Abu Dhabi's Yas Island
Miral, the Abu Dhabi-based developer of immersive destinations and experiences, and SeaWorld Parks & Entertainment, has announced the opening of the GCC region's dedicated marine research, rescue, rehabilitation, and return centre on Abu Dhabi's Yas Island.
In a statement, the developer said that the 8,602 square metre facility will be a key contributor to marine life conservation in both the UAE and the wider region via the conducting of integrated research, rescue, rehabilitation, return and education programs.
It added that the centre's efforts will aim to improve the public's knowledge and commitment to the conservation of the region's marine wildlife, habitats, and ecosystems. Leveraging the experience and knowledge gained from SeaWorld's nearly 60-year-history of marine animal care, rescue, rehabilitation, and conservation in the region.
The launch was attended by the UAE Minister of Climate Change and Environment, Mariam Al Mheiri, Chairman of, HE Mohamed Khalifa Al Mubarak, and a number of UAE officials and senior representatives from SeaWorld Parks & Entertainment.
The centre's opening is a commitment to the UAE's declaration of 2023 as the Year of Sustainability, the statement continued.
Mohamed Khalifa Al Mubarak said: "We are very proud to begin 2023, the UAE's Year of Sustainability, with opening the first dedicated marine research and rescue centre in the region, Yas SeaWorld Research & Rescue. This is a cornerstone in the emirate's journey of education and conservation, inspiring the next generation of marine scientists to learn more about Abu Dhabi's impactful long-term vision of protecting our marine wildlife and their habitats. Together with SeaWorld, we will be pushing the limits of science and conservation to become the foremost knowledge hub for marine scientists, not only in the UAE, but also in the wider region."
"With this country's deep ties to the sea, today's inauguration is the perfect embodiment of the Year of Sustainability's theme 'Today for Tomorrow,' and is our commitment to forging a sustainable future for our future generations," he continued.
Featuring a team of marine scientists, zoologists and subject matter experts in research, rescue and animal care, the centre will play an important role in research and conservation efforts in the region. The centre's Research team will conduct fundamental and applied studies focusing on the marine ecology of the Arabian Gulf covering topics such as marine biodiversity, ecosystem resilience, sensitive wildlife conservation, critical habitats restoration, fisheries, pollution, and wildlife health.
The centre will also focus on applied research studies for marine ecosystem restoration with aquaculture-based projects including fish propagation, seagrass cultivation, coral reproduction as well as field projects focusing on critical habitats of Arabian Gulf waters such as seagrass, mangroves, oyster beds and coral reefs.
Researchers and scientists will utilise state-of-the-art laboratories and infrastructure at the centre, including three dry laboratories, a wet laboratory, and a 345 cubic metre aquaculture facility which includes live feed culture rooms, brood stock pools and larvae culture pools.
The centre's research team will conduct most of these studies by use of its 12.5-metre-long research vessel that is equipped with the latest field equipment.
Mission to Protect and Conserve
Chairman of SeaWorld Parks & Entertainment, Scott Ross, said: "We are very proud of our partnership with Miral in bringing this first-of-its-kind centre to the UAE. Today's inauguration is many years in the making and we cannot be more excited to make this official announcement and continue our work together to advance the conservation of the region's amazing and extraordinarily diverse marine life.
"For nearly 60 years, SeaWorld has maintained its unwavering mission and steadfast commitment to protecting marine animals and their ecosystems and inspiring others to act and care for marine life. Extending this legacy here in the UAE is important for global conservation and is consistent with the UAE and wider region's tradition of honouring the importance of the sea."
Yas SeaWorld Research & Rescue is the newest SeaWorld Research and Rescue centre, and the first outside of the US. The centre's inauguration makes it part of a global network and leverages the experience and knowledge gained from SeaWorld's nearly 60 years of marine animal care, rescue, rehabilitation, and conservation to the region.
SeaWorld is one of the largest marine animal rescue organisations in the world and its Rescue teams are on-call 365 days a year to respond to animals in need. Since 1965, SeaWorld has rescued more than 40,000 animals, and Yas SeaWorld Research & Rescue aims to pioneer a marine animal rescue network supporting animals in need in the UAE as well as the wider region.
Yas SeaWorld Research & Rescue aims to rescue sick, injured and orphaned marine animals in the Arabian Gulf and to provide life-saving rehabilitation with the goal of returning healthy animals back to their natural habitats. To facilitate this goal, the centre will have a fleet of rescue vehicles that includes two custom-made rescue boats and a state-of-the art veterinary hospital for triage of animals in critical condition.
The centre will also have over 25 rescue pools, from large pools for marine mammals to smaller pools for fish, invertebrates, and marine reptiles. Two of the larger pools are equipped with lifting floors, which will make access for treatment easier and less disruptive for the animals. An onsite lab at the centre is also equipped with advanced rescue and rehabilitation capabilities including the ability to conduct in-house pathology analysis for wildlife.
The centre's Education department will bring together a skilled team of marine scientists and a dedicated team of marine animal rescue experts. Along with a joint SeaWorld Abu Dhabi team of expert educators, the centre has a dry classroom and a wet classroom fully equipped for scientific experimental activities in addition to a high-tech auditorium which can seat 160 people. The centre will conduct workshops and lectures, both on its premises and in schools, offering learning and training opportunities for students as well as educators in the areas of marine life science and conservation.