UK's pothole problem deepens: Will we be able to keep up?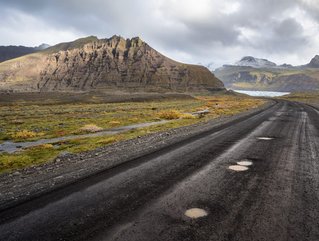 Credit: Getty Images
Richard Ashton, Market Development Manager for the Bitumen division of TotalEnergies Marketing UK
The safety of roads in England and Wales has been a particular area of focus for the industry this year. From the awareness campaign 'Road Safety Week' in November where the theme was 'Safe Roads for All', to the Autumn Statement where the Chancellor confirmed that there would be no cuts to roads maintenance funding or investments in infrastructure schemes.
However, concerns remain and recent evidence suggests that we've got a long way to go in ensuring that the road network is truly safe for all.
Warning from the AA
The AA recently issued a warning to drivers to beware of the road surfaces lurking underneath standing water this winter as it attended an extra 225 pothole-related breakdowns since the beginning of November. Evidently, there is still a pothole problem in this country and local road networks are unable to keep up with the maintenance.
The AA's warning reflects the sense of urgency that is indicated by industry reports such as the Asphalt Industry Alliance (AIA) ALARM - The Annual Local Authorities Road Maintenance Survey which was published earlier this year. The ALARM survey found that a total backlog of £12.64bn would be needed to fix local roads in England and Wales to an appropriate standard, despite a pothole being filled every nineteen seconds.
Filling potholes so frequently may seem impressive, but it is a symptom of failure not prudent highways asset management as it is simply addressing the symptom and not the root cause. Reactive maintenance is twenty times more expensive than preventive maintenance. The surface dressing treatments historically used to delay the onset of potholes have been declining over the last decade as the focus has shifted to setting KPIs around pothole reactivity. The result is local authorities reacting to potholes that would have previously been arrested at the micro-cracking stage by surface treatments sealing surfaces at the correct intervention period.
Potholes can be extremely dangerous for road users as they're often hidden by surface water and hard to spot. Potholes can also cause a lot of damage to vehicles which leads to disruption and safety risks for all involved. Tackling this issue head-on will make roads safer for everyone, reduce the overall carbon footprint of the network and deliver value for money over the road's lifespan.
Where does the problem originate?
Potholes can form in the nearside wheel track near the kerb where vulnerable users such as cyclists travel. This is because water is moved to this area to be taken via grids. Grids can become blocked through extreme weather or lack of maintenance which forms puddles. When vehicles pass by, it causes pressure washing where water is pressurised into the surface. As the surface degrades, this causes potholes to form. Freeze/thaw cycles can also accelerate the deterioration.
However, keeping gullies clear and efficiently removing water from drainages can make a huge difference. One pound saved on reduced gully clearing frequency costs many more in pothole repairs later. Keeping surfaces sealed with high-quality materials prevents the disease way before a cure is needed. Protecting roads before problems come up will delay more serious structural intervention and the subsequent carbon costs from deep repairs which are often short-term solutions.
The AA warnings highlight just how critical an issue road improvement is becoming. Climate change is a factor past engineers could ignore, however, extreme weather is now more frequent which means roads require stronger and smarter resilience to regular flooding. This calls for more durable materials to deliver the same or greater service life achieved historically. Innovative materials, such as porous asphalts, can use more advanced polymer-modified bitumen, such as TotalEnergies Styrelf, bringing 'sustainability through durability'. Polymer-modified asphalts incorporating carefully selected recycled constituents can extend road life cycles, contributing to a circular economy and carbon reduction goals.
The solutions exist, but what will really help seal the gaps in the road network, is early intervention, high-quality materials and a robust funding package that enables Local Authorities to strategically plan for the long term.