Brickability posts £11.9m half year profit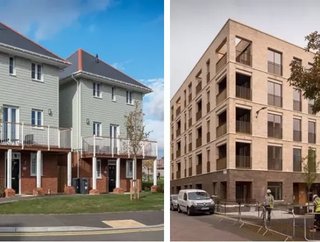 Brickability benefits from new product ranges and improving market as it posts £11.9m pre-tax profit in the six months to September
Brickability Group recorded a more-than-doubling in pre-tax profit to £11.9m (H1 2020: £5.4m) and saw revenues soar to £223.5m in the six months to September 30. 
Gross profit increased to £39m with a margin of 17.4%, although that was down slightly year-on-year (21%), while adjusted EBITDA increased to £17.6m (H1 2020: £8m), it announced in a statement to the London Stock Exchange.
Cash balance at September 30 came in at £18.4m (H1 2020: £13.8m) with net cash of £2.8m (H1 2020: net debt £2.7m)
The group reported a strong start to 2021, with performance ahead of same period in 2019 pre-COVID, and operational highlights included acquisitions of Taylor Maxwell, for £63m in June (click here), following an oversubscribed share placing raising equity finance of £55 million; Leadcraft, as announced in August; and acquisition of HBS New Energies and UPOWA in November, its first acquisition in the renewable energy products sector.
New product ranges included timber and non-combustible cladding, copper and zinc metal roofing and heritage leadwork.
Paul Hamilton has been appointed Chief Operating Officer with immediate effect.
Chairman John Richards said it was pleased to have delivered another strong performance across all our divisions during the period.
"As the housebuilding and construction market has continued to improve, all our divisions have benefitted from the increased demand which has resulted in a strong order book," he said. "Our strategy of bolt on acquisitions has enabled us to significantly expand our product offering, through the acquisition of Taylor Maxwell and Leadcraft, as well as, seeing the Group enter the renewable energy product space with the acquisition of HBS New Energies and UPOWA, a strategically significant sector for the Group moving forward, post period."
He believes Brickability is well positioned for the future, and that the scale and diversity of the business, will enable the Group to capitalise on opportunities in the market and further strengthen our positioning.
Toby Thorrington, Director, Edison Group, said splitting these effects out, LFL revenue was ahead by 50-54% in all three divisions though on a two year (pre-COVID) comparative basis, there was more of a divergence with Bricks & Building Materials leading the way (+35%) and Roofing Services the laggard (-17%).
He said the first half was a busy period for this active buy-and-build story, integrating acquisitions (two in H221, two in H122 and one after the period end, its first in the renewable energy space) and a successful equity raise in June in fast and challenging markets characterised by a strong recovery in demand which has caused widely reported supply chain strains and with short term margin effects. 
"The company remains well positioned to further progress its acquisition pipeline," he said. "In outlook terms, management has reiterated and slightly strengthened sentiments at the pre close stage, citing cautious optimism and an anticipated FY22 outturn 'at least in line with market expectations'."
Provisional Price Adjustment Formulae Indices for Timber, Steel Sections and Steel for Reinforcement showed annual increases of 79.4%, 60.4% and 80% respectively in September. The decision of British Steel to add a temporary £30 per tonne surcharge on the cost of structural steel, due to a rising energy cost, will continue to escalate costs.
Adding to this, HGV shortages and the sharp rises in wholesale energy prices means the situation for brick, block and ceramics is unlikely to improve in the near term with serious repercussions to productivity and critical path, particularly in the residential sector.
ONS' construction statistics show that following a 12% drop in Q2 2020, construction output (all work) has increased by 9.7% in Q2 2021 year-on-year.