New York's Brooklyn Bridge Forest project has been revealed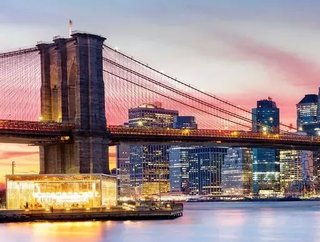 The Reimagining the Brooklyn Bridge competition has been won by a team led by Pilot Projects Design Collective...
The Reimagining the Brooklyn Bridge competition has been won by a team led by Pilot Projects Design Collective, companies within the team include Wildlife Conservation Society, Cities4Forests, Grimshaw Architects and Silman.
A total of 200 submissions across 37 countries were sent to the Van Alen Institute and New York City Council with the Brooklyn Bridge Forest concept being given the winning vote by Van Alen Institute.
The entry completely reimagines the bridge with numerous new features including improved pedestrian wooden walkways, a dedicated cycle path and many areas of vegetation at both ends of the bridge. The plan also triples the capacity of the bridge for pedestrians and cyclists.
In addition to this, more space will be dedicated to the public which will include areas for pop-up market stalls for independent and local vendors. Neighbourhood services will also be available at these stalls.
New York City Council speaker, Corey Johnson, said: "Congratulations to the well-deserved winners of the Reimagining Brooklyn Bridge competition. I'm encouraged by all the bold ideas we received on how to re-envision this world-famous walkway, which has become difficult for pedestrians, cyclists, and tourists to navigate over the years."
About Pilot Projects Design Collective
With a vision to 'co-create a better world', Pilot Projects Design Collective LLC is a design and systems thinking firm which strongly believes that even the most trivial things that are designed well can make a huge difference. The company has worked on the design of numerous projects but primarily focuses on urban streetscapes, public spaces and new buildings.
The company uses a tool called SANDBOX which enables more collaboration during the design process, which overall makes for much improved designs. Learn more about SANDBOX here. Pilot Projects Design Collective's team members have worked with some of the world's most recognised companies including CBS, Google, Disney, ABC News and Deloitte.
About Grimshaw Architects
Founded in 1980, Grimshaw Architects is a London-based architecture company founded by Sir Nicholas Grimshaw. Grimshaw is considered as one of the pioneers of high-tech architecture and has designed some recognisable and important projects including Cornwall's Eden Project, Paddington Station and terminals of many popular airports including Heathrow and Zurich Airport.
The company has won countless awards with four being won in 2019 and fourteen the year before. The company focuses on innovative design across many different types of buildings and structures including bridges, university buildings, rail structures such as stations, offices and industry-based designs. In addition to all of this, several mixed-use and housing developments have been designed by Grimshaw Architects, including Harbour Mill Apartments in Sydney and Via Verde located in The Bronx.
About Silman
Based in New York, Silman is known for supporting some of the best architecture, partnering with only the best architecture firms whilst supporting smaller companies along the way. So far, the company has consulted on over 23,000 projects.
The company was founded by Bob Silman in 1966 and was a one-man company. Now, it has over 160 staff members across four different locations in major cities in the United States. A quote by Silman states: "Work on the best projects. Support great architecture. Provide the highest level of technical excellence. Find joy in what we do."