UK construction will grow to £61bn by 2023 reports Glenigan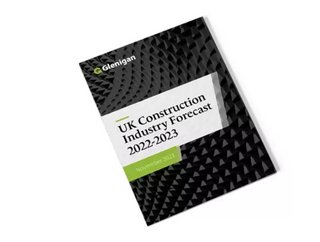 Industrial projects, private housing and delayed recovery in the hotels and leisure sector are driving growth, according to Glenigan's research
The value of UK Construction will rise from £54.2 billion this year to £61 billion by 2023, according to Glenigan's Construction Industry Forecast 2021-2023.
While the industry has endured severe disruption from COVID, a dampened economy and Brexit impacting the pace of recovery, the report forecasts its rebound is still on track.
Industrial projects, private housing and the delayed recovery in the hotels and leisure sector are driving growth. The Government's 'leveling up' agenda is also set to spur new development activity, particularly in the Midlands and North of England.
Private housing 'mini-boom' set to moderate
Following a 'mini-boom' of the housing market following the lift of the first national lockdown, property transactions and house prices rose sharply, driving demand for larger properties in market town and semi-rural locations. A temporary reduction on stamp duty rates provided further catalyst.
Yet despite weak household earnings, tax increases and higher mortgages taking their toll and moderating growth over the next two years, a 6% and 5% increase is expected for private residential starts in 2022 and 2023, respectively. 
Offering further optimism, the value of projects securing planning approval has improved every year since 2015 (bar 2018 when project-approvals fell slightly below 3%). The value of approvals also held up in 2020 despite the pandemic, rising 3%, and have remained firm in 2021 with an 8% rise in approvals (seasonally adjusted) during the ten months to October.
Major growth for Industry
A success story of 2021 has been the Industrial sector. Following a sharp fall in project starts in 2020, with a value drop of nearly a third (29%) against 2019 figures, project-starts have recovered greatly in 2021, with the value forecast to increase by 33%. This trend is set to continue into 2022, with project-start values surpassing pre-pandemic figures and increasing by nearly a quarter (24%).
A continued surge in the warehousing and logistics sub-sector is also predicted, having been the strongest performing sector since 2018. Booming online sales have intensified the demand for logistics space.
Following anticipated growth of (49%) in 2021 against the previous year, warehousing and logistics work starting on-site is set to increase by a further 34% in 2022, followed by 2% in 2023.
Rebound planned for Hotel and Leisure
Having been hit particularly hard by the pandemic with repercussions still being felt throughout 2021, Hotel and Leisure project-starts have been estimated to have made just an 8% recovery this year. However, with the impending revival of the sector, investor confidence is expected to rise, leading to improvements of a quarter (25%) in 2022 and 17% in 2023.
Sustainability boosts Civil Engineering
Steady growth in project-starts for civil engineering is predicted throughout the forecast period. The Government's drive to Net Zero has led to an increase in renewable energy projects, whilst major-projects have helped lift the sector's overall workload.
Despite project-starts in 2021 remaining lower than anticipated with the value only forecast to increase 3% this year, a string of projects including the second Road Investment Strategy (RIS2), which will allocate £24 billion to build new road capacity as well as improve the quality of existing roads, is approaching the halfway stage.
HS2 is also making a significant and crucial contribution to sector activity as work on Phase 1 continues - although overnight reports have speculated that the Government will announce the Eastern Leg (Birmingham-Leeds) is set to be scrapped, which would undermine the 'levelling up' strategy.
Glenigan Economic Director Allan Wilen said 2021 has been a tumultuous year for trading across the wider UK economy, not just in the construction sector.
"However, the Forecast has shown just how resilient the industry is, with growth scheduled across many different sectors," he said. 
"While increased Government funding in line with the 'levelling up' agenda has been welcomed, the coming years will no doubt present their own challenges. Contractors and sub-contractors who seek to identify and mitigate any potential interruption to product supply will be best placed, especially as material and labour shortages are likely to increase cost pressures.
"But as we've seen time and time again, where there's a will, there's a way and as they stand, the figures look optimistic that growth for the sector can continue."