How to build to withstand a natural disaster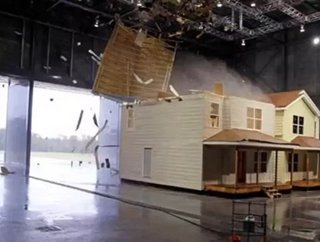 The Three Little Pigs just had to worry about building a home that would survive a high wind. But in the modern version of the classic fairytale, thered...
The Three Little Pigs just had to worry about building a home that would survive a high wind. But in the modern version of the classic fairytale, there'd also be an earth-stomping bear, a fire-breathing dragon, and maybe a tsunami-causing Godzilla along with the big bad blowing wolf.
As we brace ourselves for the next magnitude 6 or above earthquake, like the recent one near Napa, California, or the next wave of extreme weather—expected to increase due to global warming—it makes sense to start planning now for the worst-case scenario. Whether you're building a home from scratch, or assessing your existing home, there are some steps you can take to try and avoid the fate of the first two pigs.
Natural hazards lurking in your neighborhood
California has earthquakes and wildfires; the Midwest hunkers down for blizzards and tornadoes; the Eastern Seaboard and the South are plagued by hurricanes and flooding. In certain states, but not all, the seller of a property must disclose any natural hazards; for example, if the house is located in a floodplain. To learn more about your area, you can also type your zip code into DisasterSafety.org (note that it considers fire and flooding to be a universal threat, so those two will definitely pop up). 
 
Building to code-plus
When you build a new home, local building codes are supposed to ensure that it can handle the hazards of your particular area. But how rigorous the code is—and how well it is enforced—varies widely. "Building codes are concerned with basic safety and protecting the people inside the home," said Stacy Williams, public affairs manager for the Insurance Institute for Business & Home Safety (IBHS). "Protecting the structure itself from damage often requires additional measures."
Funded by the insurance industry to promote more durable construction, the nonprofit organisation offers a nationwide program, FORTIFIED for Safer Living, which upgrades your house plans as necessary to meet higher standards and monitors the construction process to ensure compliance. Another IBHS program, FORTIFIED Home, helps with hurricane retrofits.
And building codes are often strengthened after the fact. Florida instituted some of the strictest building codes in the country after it was devastated by Hurricane Andrew in 1992, and Mississippi learned the hard way after Katrina. Houseplans.com architect Bruce B. Tolar came back to his home on the Mississippi coast to find it had been flooded by three feet of water. But because he'd previously worked in Florida and built his home (Plan 536-7, on Houseplans.com, shown here).

Thanks to those tougher specifications, the structure itself was fine, surviving a direct hit from a tree. Some older homes down the street weren't so lucky.
Note that building codes only come into play if you're doing new construction or major renovations. If you have an existing older home, it's worth being proactive and doing what you can do to strengthen its major point of weakness, such as a voluntary seismic upgrade. Your local building department is a good starting place, since they should have records of any major improvements to your home over the years.
Earthquakes
In earthquake country, designing a strong foundation is paramount. So the first step is to hire a geotechnical engineer to evaluate your site. "They will take soil samples for evaluation, then provide recommendations on what foundations are suitable for your lot," said Houseplans.com architect Nick Lee, who is based in Sonoma, California. If you have an older home without a concrete slab foundation, consult a building professional with experience in seismic retrofits. 
 
Hurricanes and tornadoes
When it comes to high winds, the most critical part of the house is the roof. Building to the code of a coastal hurricane zone will help ensure that it won't be blown off and that your doors and windows will be impact-rated against flying debris and wind pressure. In states where tornadoes are a worry but building codes haven't been beefed up, go with hurricane standards. 
If your existing roof is in good condition, IBHS suggests some DIY repairs, which include fixing loose shingles, securely fastening soffits, and caulking any gaps in the exterior to prevent wind-blown water from entering. For windows, Tolar recommends installing roll-down shutters. "They won't affect the aesthetics too much," he says.

Wildfires
According to the Colorado State Forest Service, the best way to protect a home from wildfires is to create a 30-foot radius around it that is clear of flammable materials. Then, to protect the structure from flying embers, use non-combustible roofing materials such as cement shingles, metal or tiles, and cover vents with metal mesh. Homes that have substantial overhanging elements are more vulnerable since those features will channel hot air; use fire-resistant materials for soffits, balconies, and decks.

Floods
The general guideline in flood zones is to build your home above the water line of the theoretical 100-year flood (also known as base flood elevation, or BFE). But what happens if the water rises above that? "Use real materials, because they tend to wear better," said Tolar, whose house was above the BFE, but still ended up with submerged lower kitchen cabinets.
However, because the cabinets were wood and not particleboard, he only needed to refinish them, not replace them. He also recommends staying away from wall-to-wall carpeting and taking advantage of the new mold- and mildew-resistant drywall, insulation, and other building materials on the market.