HS2 highlights £12 billion worth of supply chain contracts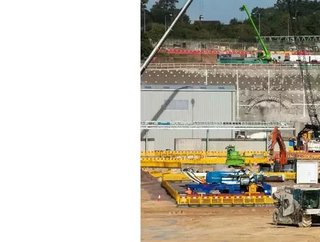 Four-day event showcases 400,000 opportunities arising from high-speed rail project...
HS2, the company behind Britain's new high-speed railway, is showcasing £12 billion worth of contracts that are up for grabs in 'Meet the Contractor' online events running until November 27.
Company executives will receive insights into the estimated 400,000 supply chain opportunities and more than 2,000 businesses are registered (78 percent being SMEs), securing in excess of 21,000 'virtual' seats.
The four-day programme is being delivered in partnership with HS2's four main works construction partners (Balfour Beatty VINCI (BBV)); Eiffage, Kier, Ferrovial, BAM Nutall (EKFB)); Align and Skanska Costain STRABAG (SCS)) and two stations contractors (Balfour Beatty/VINCI/SYSTRA and Mace/Dragados), who between them will unlock thousands of individual work packages which range in size and value between £5,000 and £200 million.
The agenda for the first three days consists of 24 opt-in webinars, delivered by over 60 presenters, which allow delegates to learn about the HS2 scheme, HS2 Ltd's procurement processes and the programme of works its contractors are undertaking. Monday's session begins with an introduction from HS2 Minister, Andrew Stephenson MP. Registration is now closed but webinars will be shared afterwards. 
The final day presents the opportunity for over 1,000 potential suppliers to meet one-to-one with HS2's construction partners, who are looking for new entrants into their supply chain to deliver their 2021/22 work packages.
"HS2 is at the heart of our plans to build back better from COVID-19 by firing up economic growth and creating tens of thousands of skilled jobs right across the country," said Stephenson. "This marks a very important moment for this project as it opens up £12 billion worth of supply chain contracts, creating immediate opportunities and providing certainty for British businesses when they need it most."