Winvic tops out first hotel project in Milton Keynes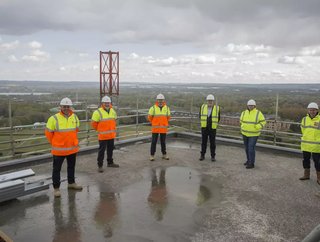 Winvic Construction has topped out its first hotel project, Hotel La Tour, in Milton Keynes
Winvic Construction has topped out its first hotel project, Hotel La Tour, at 50 metres in Milton Keynes.
A roof covering programme is now underway which will be followed by floor and ceiling curtain walling, and extensive glazing on the 13th floor, which will contain a sky bar, restaurant and public exhibition space.
Work on envelope and cladding will continue with the 30m high, LED-lit satin finish stainless steel circle on the eastern façade completing the external design. The 'sun' design will be visible up the city's Midsomer Boulevard, which was created to align with the sun on the longest day of the year.
Winvic is currently fitting-out the 261 bedrooms, which has included the sailing and positioning of off-site fabricated bathroom pods. Fit-out of other facilities within the hotel will also continue, such as the 12,000 sq ft flexible conference floor that comprises adaptable meeting spaces and an external terrace that has been designed to be high load bearing. The project is expected to be handed over in July 2022.
Mark Jones, Winvic's Head of Multi-room, said: "We started on site just two weeks after the first 2020 lockdown was announced and despite the unprecedented challenges, our team have hit milestone after milestone on, or ahead, of schedule. I'd like to say a huge thank you to them. Reaching the highest point of any multi-room project is always worth celebrating, but this is a bit more special as it's Winvic's first hotel," he said.
Winvic recently lifted eight railway bridge beams into place over the A5, 2km north of M1 J18. It is one of three bridges that Winvic is constructing for Prologis at DIRFT III in Northamptonshire, as part of a £29 million contract to deliver a new Intermodal Rail Freight Terminal.