Advances in robotics and automation can prevent accidents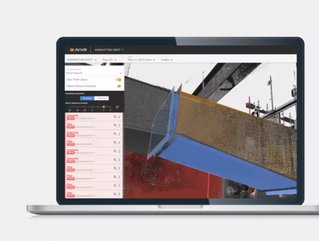 Raffi Holzer Raffi Holzer, CEO and Founder of software platform Avvir, believes new technologies can prevent accidents such as the Surfside tragedy
In mid-November, construction of the deepest and most expensive underground parking garage ever built in Miami came to an abrupt pause. After a second groundwater breach in less than a month caused fears of an incident similar to the Surfside collapse that killed 98 people in June, wary city officials issued a stop-work order on the $25 million, 100,000-square-foot Una Residences project. A team of engineers was deployed to evaluate what impact, if any, the project is having on the surrounding area. 
The Surfside collapse has created wider recognition of the need for better regulation, sustainability, and safety within construction processes. The key to avoiding these types of incidents is investment in, and standardisation of, construction technology that makes processes more efficient and sustainable. 
Construction problems like the one plaguing Una Residences typically occur when building plans don't match the reality of the construction site. This gap between plan and reality renders traditional BIM obsolete the moment ground is broken. Nearly all traditional software is susceptible to human error during data capture. 
New technologies are solving this problem. Across the country, robots - whether they be flying drones or four-legged machines - are patrolling job sites and feeding laser scans and other reality capture data into software systems. 
Accurate down to an eighth of an inch, this data can be collected in a fraction of the time required by human crews using tape measures, photography, and visual inspection. On one job site in northern California, robots mounted with 3D cameras were able to scan 50,000-foot floors in as little as 20 minutes. 
Once collected, cutting-edge software maps this real-time data over BIM to create a direct link between the real world and the system meant to record it. This effectively transforms a system of record into a system of reality. 
Machine learning systems can then analyse thousands of different elements at a time to identify inconsistencies between plans and as-built conditions as soon as they occur, allowing project managers to resolve the issue before large-scale rework is required. The layering of cost and timeline data allows projects to stay on time and on budget. 
By utilising automation and machine learning to draw a red line through building plans and reality, we create cost-effective projects and safer construction. Investing in these new technologies is critical to long-term sustainability. 
Raffi Holzer is CEO and Founder of construction software platform Avvir