How digital transformation is modernising construction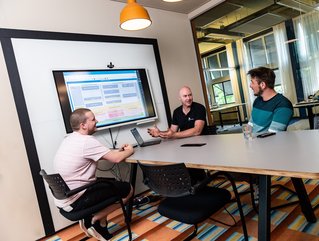 Tom de Ridder, Co-Founder at ValueBlue USA, outlines how the accelerated adoption of transformational digital technologies is spurring economic growth
Almost every industry, in every sector, has embraced digital transformation. Most experts believe that the COVID-19 pandemic made organisations begin digital adoption sooner than they had planned. The negative pressures which 'forced' digital business transformation have resulted in sizable positive changes and significant benefits.
The construction industry has been one of the least digitised industries globally, relying heavily upon a decades-long business model. According to Deloitte, the construction sector has seen a negligible year-over-year rise in productivity compared to other sectors, like manufacturing. However, in Q1 2020, the construction industry infused a healthy US$900bn into the US economy – the highest since the 2008 recession. Then the pandemic hit and over 1mn jobs were lost between February and April 2020 from the construction industry alone.
The construction industry needs a major remodel
The construction sector has always faced up and down cycles of expansion and contraction. It is an industry that faces many challenges surrounding project timelines and deadlines, safety concerns, permit and supply delays, and fluctuating availability of skilled labour. More recent stress factors are the increased price of steel and aluminium due to tariffs imposed in 2018, and supply chain woes caused by the pandemic.
According to a National Association of Home Builders analysis of 2019 survey data, the median age of construction workers is 41 years, which underscores the urgency to recruit and replace a workforce that may largely retire by 2029. The advancement of technology has led many young people to migrate to less physically demanding industries, many of which are available without the requisite college degree.
The construction sector needs to reinvest in the workforce through revitalized training initiatives and bolstering the talent pipeline by adopting digitalisation of business processes. Digital transformation can attract a younger workforce. Modernizing processes through the adoption of innovative digital technologies can create new jobs and future-proof the industry.
Shifting from traditional methods to digital management solutions
Historically, information on a construction site has been managed and communicated verbally and via a largely paper-based system. A lack of organized site management and miscommunications between field and office personnel often leads to delays, lost time and money, and decreased morale.

The onset of Computer-Aided Design (CAD), Building Information Modeling (BIM), supply chain integration, and mobile computing has set the stage for the construction sector to vastly modernize the industry. As more construction companies go digital, Information and Communication Technology (ICT), Artificial Intelligence (AI), automation and Robotic Process Automation (RPA), and digitalized tools and business processes are becoming a fundamental part of the construction lifecycle.
The use of innovative software has facilitated the identification, quantification, and streamlining of work tasks, thereby saving time, money, and effort. Digital tools support myriad functions, aiding in establishing the timeline and budget, and tracking work in real-time. They promote more accurate scheduling, with tighter margins for superior project planning. Contractors can use the power of data to improve communication, efficiencies, productivity, and safety. Digitalization within business processes promotes growth, improves profitability, and enables sustainability.
Technology is reshaping the industry
Data is gold for any industry, and data management has become essential for efficiency and security. Cloud migration has enabled technology innovations that have reshaped the business model for most industries. With applications and processes moved to the cloud, all participants can have access to all aspects of a project at any time, from anywhere.
ICT in the construction industry includes the application of decision support tools that can process, store, analyse, control, and transfer data throughout the entire lifecycle of a project. Providing a fast track for communication between all project participants and vendors provides enormous clarity, accuracy, flexibility, as well as savings in time and money.
BIM has become an industry standard, moving the construction sector from a blueprints process to digital representations of building projects in 3D form. Innovations in SaaS technologies are now enabling construction companies to access intuitive platforms that combine the data provided by light detection and ranging (LiDAR) survey methods with geographic information system (GIS) mapping and BIM, without downloading on-premises software.

These technologies, when integrated into a unified platform, can allow contractors to assess the tools, materials, and machinery that may be needed to predict project costs. The combined data can determine site suitability and where to place utilities. Collaboration between engineers, project managers, and architects is achieved with all stored data accessible at all times for clarity and design flexibility.
The move to a holistic integrated delivery model, from one of separated disciplinary inputs and silos, is becoming essential in every industry. Business agility is supported through collaborative processes that link the infrastructure to the applications and map out the entire operational landscape. Construction managers can utilize these digital solutions to standardize approaches across a project or multiple projects, giving clear insight into all delegated responsibilities and project expectations. Digital transformation is revolutionizing the construction process from the design phase to project completion.
Adapting to digital transformation in the new construction era
In order to take full advantage of the benefits of digital transformation, construction managers need to enable the workforce to 'connect' with new technology implementations. Clear communication, along with providing patient and ongoing training, will be key for success. The rollout and pace of digital adoption can be gradual to ensure that all participants can collaborate effectively and with ease. A first phase step should be discerning existing problems and then using standardized, digitized workflows to model solutions that can fill the identified needs.
The construction industry has come a long way through its adoption of advanced technologies like robotic automation processes, AI, digital mapping and 3D printing, data analytics, IoT devices, and fully integrated intuitive platforms. The 2022 projections for the engineering and construction industries are very optimistic, with accelerated growth expectancies. While almost every industry is still recovering from the 2020 pandemic impact, the accelerated adoption of transformational digital technologies is spurring economic growth and sustainability.
Tom de Ridder is Co-Founder and Platform Architect, ValueBlue USA. He specialises in the IT landscape, combining BI, development skills, and analytical insights into cost-effective ways of managing IT environments and connecting IT and business.