Balfour Beatty Rejects Improved Carillion Offer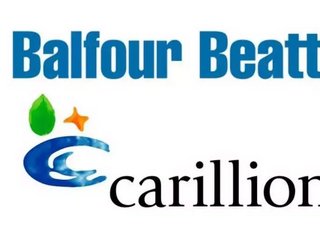 The Board of Balfour Beatty has rejected Carillions revised merger proposal after consulting with major shareholders.The offer had valued Balfour at &po...
The Board of Balfour Beatty has rejected Carillion's revised merger proposal after consulting with major shareholders.
The offer had valued Balfour at £2.1bn, and offered shareholders 58.3 percent of the combined entity with a dividend of 8.5p per share. It also proposed that three Balfour non-executive directors would sit on the new board and that it would cover "reasonable costs" of the remaining bidders for Parsons Brinckerhoff up to £10 million in aggregate if the merger and therefore the sale did not go ahead.
However, Balfour said the revised proposal failed to address its two key concerns: "the considerable risks associated with the proposed business plan, including the strategy to significantly reduce the scale of the UK Construction business when it is poised to benefit from a recovery in the market; and the continued intention to terminate the sale of Parsons Brinckerhoff at a point when it is reaching a successful conclusion."
The company said its shareholders had unanimously decided to reject the offer and not seek an extension to tomorrow's deadline to conclude the deal. It added that the value change to the first offer was "small".
The Board added that it would now focus on delivering its standalone strategy, prioritising the Parsons Brinckerhoff sale; the appointment of a new CEO, restoring value to the UK construction business, realising further indirect overhead savings and shared service efficiencies across the Group; and publishing an updated valuation of the PPP portfolio which takes into account current market conditions.
Carillion's board continues to believe in the strategic logic of a merger, and that its merger proposal could save at least £175 million per year by the end of 2016, while enhancing earnings significantly from that year.
On making the revised offer, Philip Green, Chairman of Carillion, had said: "Given the scale of the prize for shareholders of both Balfour Beatty and Carillion from a merger of the two companies, the Board of Carillion remains committed to moving forward in a constructive and collaborative way with the Board and management of Balfour Beatty to create a world-class business and very significant value for the shareholders of both companies."
Yet a successful deal at this late hour now seems unlikely.