New data-driven simulation toolkit launches to transform urban renewal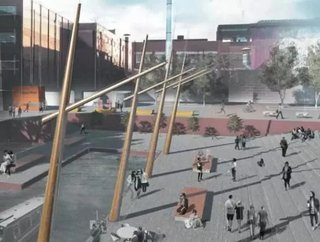 A new digital simulation toolkit being developed by Birmingham City University and Birmingham City Council, UK, aims to improve the lives and wellbeing...
A new digital simulation toolkit being developed by Birmingham City University and Birmingham City Council, UK, aims to improve the lives and wellbeing of people living and working in major cities around the world.
The Data-driven Interactive Smart City decision support toolkit, or Project DISC, will be developed to model and simulate the impact and effect of major infrastructure developments using historical and real-time data. This in turn will support economically and environmentally sound urban planning and policy development.
Announced on the 4th of April, Project DISC will initially focus on two major developments within Birmingham – the construction of the planned High Speed 2 (HS2) terminus, Curzon Street station, and the revival of the canals in the eastern corridors in to and out of the City.
Focused on unlocking and making better use of currently siloed, closed or internal data, the toolkit aims to take a data-driven approach to urban renewal through combining a web-based interactive three-dimensional platform – provided by Urbanetic, a Singapore-based urban technology firm – with a tactile physical model of the city. The result will be a flexible and easy to use tool for urban planning, analysis, simulation and monitoring that significantly reduces both time to design and through-life costs.  
By utilising specific data sets in relevant areas, such as building energy efficiency, traffic congestion and emissions, the toolkit will precisely determine what impact new developments will have on travel through the affected area, for example, as well as air quality, human health and socioeconomics. This can then inform city planners on when to restrict building-related traffic within specific areas or offer alternative routes during rush hour and when children are traveling to school.
Professor Julian Beer, Pro-Vice-Chancellor Research, Enterprise and Business Engagement at Birmingham City University said: "Cities need to grow, but they need to do so in a sustainable and safe manner. Project DISC is an innovative simulation tool, which allows us to better plan for major infrastructure developments in a secure fashion that protects and manages the specific demands of an urban area – even at a hyperlocal level.
"This partnership led by Birmingham City University and Birmingham City Council will also allow us to unlock and safely make use of currently closed data, enabling informed decisions about where best to spend public money and truly embodying what any smart city sets out to achieve."
The simulations can also identify areas where historical records are lacking, leading to new data streams being collated, with the potential to feed in to the toolkit as live information.
The toolkit developed by Birmingham City University and Birmingham City Council as part of Project DISC will use 'Fabric', a web-based three-dimensional geospatial modelling platform developed by Urbanetic. The toolkit is open and transferable, and will eventually be made available to other cities and private industry to serve similar needs across the globe.  
Raj Mack, Head of Digital Birmingham at Birmingham City Council, commented: "DISC provides a unique opportunity for us to build on the work that has already started through the Eastern Corridor Smart Demonstrator to develop new and integrated ways of using technology, data and infrastructure and city assets to deliver real benefits for the communities and citizens.
"The user and data driven toolkit of DISC will bring new insights and demonstrate a transformative approach to how we manage future investments, design and plan services and make the best use of resources, particularly in the lead up to significant investments like HS2 and ensuring their positive impact on neighbouring communities."
Follow @ConstructionGL and @NellWalkerMG