Scotland and Ireland have 'least trustworthy' tradespeople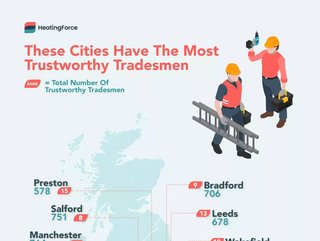 While Irish and Scottish cities dominate bottom rankings compiled by Heating Force, London comfortably came first
Inverness, Aberdeen and Derry have propped up a league table of trustworthy tradespeople by Heating Force.
Nine other cities in Ireland and Scotland - including Glasgow, Belfast and Dundee - also made the bottom 15 rankings.
In contrast, London topped the table with 2,764 deemed trustworthy, with two other south-east places, St Albans and Chelmsford, coming in second and third place respectively.
London listed 1,016 Electricians, 149 Plumbers, 192 Plasterers and Renderers, 419 Carpenters and Renderers, as well as 988 Builders on the government-certified list. 
Another positive mini-cluster was identified in the Midlands, with Lichfield and Coventry claiming fourth and fifth spot. Manchester (8th) and Birmingham (12th) also performed respectively, out of the major conurbations.
Which? has a Trusted Traders endorsement scheme that recognises reputable local tradesmen and tradeswomen, covering all kinds of home improvement professionals, from bathroom fitters, builders and electricians to gardeners, plumbers and home security experts.
TrustMark, a non-profit social enterprise, also provides an indicator of Government-endorsed quality.  Each year, scams cost the UK economy around £5-£10 billion, and according to its statistics, the average victim has lost over £3,000. While 53% of people over 65 have been targeting by scams, only 5% are reported.
The Work Safe Safe Work provides guidelines for working during the pandemic.