Vinci Facilities, Amey and Vivo win UK defence contracts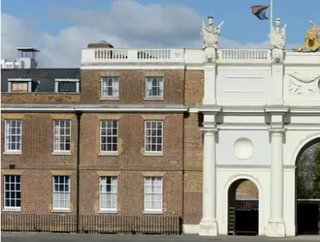 Vinci Facilities secures £1.1 billion MoD deal, Amey wins seven-year contract to DIO and Serco-ENGIE JV Vivo scoops defence FM and housing contracts
VINCI Facilities has been awarded an estimated £1.1 billion contract to provide facilities management services to Ministry of Defence (MoD) for its Built Estate across the South East of England. The total contract is for a seven-year term, with an option to extend for three additional years.
The deal includes £423m for the core contract and a potential £732m for billable works. It is one of four regional hard FM and capital works contracts and VINCI Facilities will be managing over 6,200 buildings and infrastructure assets supporting a significant number of MoD military and civilian personnel in over 59 establishments and is being mobilised now.
It is among a flurry of deals involving the MoD and Defence Infrastructure Organisation (DIO) this month.
Amey has secured two contracts with the DIO to maintain Service Family Accommodation (SFA) across its Central and Northern regions.
The contracts, which fall under the Regional Accommodation Maintenance Services (RAMS) element of the Future Defence Infrastructure Services (FDIS) will run for seven years with an option to extend for an additional three. In addition to the core services, which include housing maintenance, the contracts will deliver improvement projects and refurbishment work to approximately 25,000 properties.
The contract award follows Amey successfully delivering maintenance solutions under National Housing Prime - procured under the Next Generation Estates contract in 2014. Amey's defence team will work with the DIO to provide enhanced services, as outlined within the new FDIS requirement, through collaborative working and improved data management.
RAMS will support more than 500 jobs within Amey and its key supply chain partners in both the Central and Northern regions. New ways of working will provide opportunities for flexible employment, meaning members of the military community, parents, and carers will be able to access jobs. This will translate into more choice and flexibility for people living in SFA.
Craig McGilvray, Managing Director of Amey Secure Infrastructure, said: "We recognise the important role housing plays to military personnel and are committed to providing an enhanced service that not only improves living standards but contributes to thriving communities. 
"Supporting and sustaining regional and local supply chain partners remains a core part of Amey's agenda and we are pleased that our delivery model will support specialist contractors across Britain including Northern Ireland."
Air Commodore James Savage, DIO Head of Accommodation, said: "Accommodation is such an important part of family life for Servicemen and women, which is why we collaborated closely with representatives of our Service personnel and their families to develop these contracts and ensure that their needs are fully considered.  
"These new contracts offer the opportunity to break decisively from the past and to build on the commitments made by all suppliers to innovate and deliver more responsive and flexible services to the Armed Forces and their families." 
This month VIVO Defence Services (VIVO), a 50/50 Joint Venture between Serco, the international provider of services to governments, and ENGIE were awarded contracts to provide asset and facilities management services for the UK Defence built estate by the Defence Infrastructure Organisation (DIO). 

VIVO has been awarded contracts for two of the four regions being tendered under Lot 3 of the Future Defence Infrastructure Services (FDIS) programme.  VIVO will be responsible for providing services in the South West and Central regions of the UK, the largest two regions of the four that were competed, and which represent around 2/3rds of the MOD's estimated value of Lot 3 of the Future Defence Infrastructure Services contracts.
The total core contract value to VIVO for the two regions is estimated to be around £900m over the initial seven-year period.  There are a further three one-year extension options. In addition to the core fixed price contract for each region, there will be significant amounts of additional project work, which will be commissioned as required by the DIO. The Ministry of Defence estimates that they are likely to be worth a further £2.5bn over the initial seven-year term.