Bamboo Auctions secures £1.1m funding and lists on Rightmove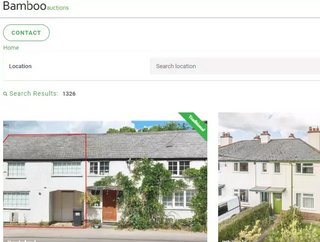 RO Capital Partners has co-led a £1.1m funding round together with the Cass Enterprise Fund in online auction company Bamboo Auctions
RO Capital Partners, the RO Group's investment arm, has co-led a £1.1m funding round together with the Cass Enterprise Fund in Bamboo Auctions, which provides online auction technology to estate agents and auction houses. The round was supported by follow on capital from existing investors and new angel investors.  
Launched in 2015, Bamboo Auctions' technology allows properties to be sold with immediate and legally binding contracts.  Its marketplace makes transactions faster, more certain, and more transparent. The business has continued to grow quickly since inception with over 1,000 properties, representing a total value of over £200m, having been sold using Bamboo's platform in the last 12 months. Customers of Bamboo include Clive Emson, Stags, Bradleys, Hunters and Webbers. 
Bamboo will use the growth capital to invest further in its technology to ensure it remains the best in the market, as well as introducing new features and partnership integrations. It will also be deployed in intelligent advertising and marketing to drive further sales growth; as well as maintaining the company's high level of customer service.
Robin Rathore, Founder and Director, Bamboo Auctions, said the average property transaction takes around 20 weeks, but using its technology, agents can reduce this time to just five weeks. "The speed and certainty that our technology brings to the transaction has given our agent customers an invaluable advantage in the market, not just because it has allowed them the space and time to sell properties during periods of lockdown, but also because it has helped to increase the number of instructions, increase the number of sales, and increase average fees overall.
"Auctions are evolving, and Bamboo is at the centre of this movement.  We are continuously innovating, and by listening to our agent customers, we are focusing on making our core service the best in the market."
The arrangement with Rightmove means that properties listed by agents through Bamboo's platform will automatically be tagged as an auction property and will have up to date timer and bid status. Agents will also benefit from additional calls to action and clearer, more standardised information on each property listing page.
Edward Rowlandson, Group Managing Director, the RO said it launched RO Capital Partners in April 2021 to invest in active, early stage tech businesses and proptech was a key market, given its wider real estate experience. "We are hugely excited by Bamboo, its offering, and its use of technology to innovate the real estate market," he said. 
Steve White, Group Commercial Director, the RO added: "The online auction market has seen significant growth during the past year, and we are excited to be investing at such a pivotal stage in Bamboo's journey as they experience tremendous growth and fast uptake by estate agents and auction houses who are becoming increasingly aware of the benefits of the Bamboo offering."
Helen Reynolds, MD and Investment Director of the Cass Entrepreneurship Fund, said: "We have been impressed with the skills and expertise of the Bamboo CEO and his team and the strong relationships built thus far with customers and partners. We look forward to working with Robin through the next stage of Bamboo's growth and supporting the company's success."
The pandemic and lockdowns gave a major spur to online property auctions - although they account for only 2% of all sales. 
BidX1 doubled its UK sales year-on-year, with £108m-worth of property sold in 2020, up from £52m in 2019. The firm recorded 6,980 bids on UK property in 2020, resulting in the sale of more than 320 assets, with bidder numbers increasing by more than 200% (click here). It formed a strategic partnership with London estate agency Foxtons.