NavVis investment rises to €85m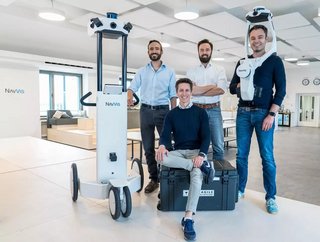 NavVis secures €25m of fresh equity to fuel growth of its 3D scanning and cloud-based digital twin software
NavVis has received €25m of fresh equity funding that complements the recent €20m debt funding from the European Investment Bank (EIB), raising total investment to €85m.
The round was led by Cipio Partners, with additional capital from previous investors, BayBG, MIG, Target Partners, Digital+ Partners, and Kozo Keikaku Engineering.
The company is "on a mission" to bridge the gap between the physical and digital world. Its product offering includes a reality capture solution, which allows for rapid digitisation of buildings and assets, and cloud-based digital twin software for the manufacturing and construction sector.
CTO and co-founder Georg Schroth said it wants to provide immediate, reliable information about buildings from anywhere in the world through its reality capture solution and SaaS platform.
NavVis plans to leverage the investment to expand operations to meet the demand for its 3D scanning and digital twin solutions, and scale its R&D teams to further strengthen its technological leadership position in SLAM software (simultaneous localization and mapping), reality capture, visual positioning, and digital twin technologies.
CEO and co-founder Felix Reinshagen said: "Spatial data is a fundamental building block for digital twin technology and many industrial applications. Augmented reality and the metaverse need spatial data at scale to fulfill their promise. This new funding will allow us and our customers to capture and work with spatial data at unseen scale and utility."
Construction, for years mired in manual processes, is busy embracing digital technologies.
Buildots - which captures images through hardhat-mounted 360° cameras - was recently selected by Wates Residential for Orbit's Park East residential project in Erith, London. 
Trimble, which is developing technology, software and services to drive digital transformation, recently announced its Earthworks Grade Control Platform software and Trimble Siteworks software are now available globally as a subscription service.
In E&C, productivity gains are directly driven by transparency and proactive problem resolution, according to McKinsey.
"Digital twin platforms and reality-capture solutions enable stakeholders to minimise rework in the field by allowing a dynamic view of the project and real-time comparison of progress to design blueprints - and the ability to adapt those blueprints as the work progresses and inevitably results in changes," it states.