OpenSpace Basic provides free 360° video capture solution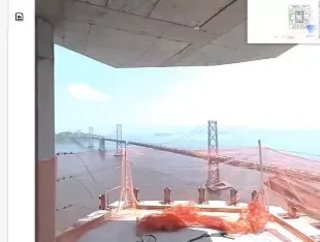 OpenSpace Basic targets firms who want to try out 360˚ documentation software - and comes as more firms target digitization workflow opportunities
OpenSpace Basic - a limited version of OpenSpace's signature product - is billed as the industry's first completely free 360° video capture solution for construction.
It is designed for small jobs up to 10,000sq ft and targets firms who want to try out 360˚ documentation software before fully integrating it into their workflow.
OpenSpace Basic provides a complete, interactive digital replica of a job site, enabling more collaboration between the field and office, assistance with remote site management, and reduce costly rework.
"Over the past year, we've heard from builders that they wanted to have more access to the automated convenience of our standard video site capture product, which inspired us to create OpenSpace Basic," said Jeevan Kalanithi, CEO and co-founder of OpenSpace.
A small 360° camera can be attached to hardhats, indicating their starting location on the floor plan in the OpenSpace app, and workers can walk the site as normal. 
Computer vision technology stitches images together and pins them to the correct location on the floor plan, creating a digital twin of the job site, and Splitscreen allows two captures to be compared at different times (pictured).
For Dante DeFazio, Renovations Project Manager at Virginia Tech Facilities, the benefit of having video capture is clear. "With OpenSpace, I capture everything that I need - plus everything that I didn't know I needed, and it takes much less time."
DeFazio recently changed jobs and was able to use the free version of OpenSpace on a trial basis to speed up adoption with the rest of the team. "I was able to educate my coworkers about it so they could see the benefits of using it before committing to a paid contract. I'm excited that the free version will now have video capture."
OpenSpace Basic customers will also have access to unlimited Field Notes, allowing builders to snap images of punch list items or RFIs, add in relevant notes, and then automatically attach the information to the correct position in the digital replica and floor plan.
Matterport partners with SIMLAB and Kenesto launches PDF tool
Matterport recently announced a strategic partnership and investment in SIMLAB, a technology company that specializes in the digitization of buildings throughout the design and construction phases and the development of software toolkits to help AEC teams communicate more efficiently at every project stage.
The company creates products and features that integrate Matterport digital twins with BIM and smart home IoT technologies. The partnership is intended to fuel the development of new integrations and innovative products to meet AEC customers' needs.
"The Matterport platform is a game-changer for the global construction industry by making it easy to digitize buildings at any stage of development," said Marek Kozlak, founder and CEO of SIMLAB. "Matterport has opened up their spatial data platform to enable companies like SIMLAB to extend the power of the digital twin with new tools that automate construction documentation and project workflows."
Kenesto announced the beta release of Kenesto PDF, a second-generation tool for fully automated splitting, linking, sharing, and markup of PDF documents used for construction. The cloud-based application splits and links multi-sheet pdf documents, including callouts, in minutes with no human intervention or instruction required. A 50-sheet document can be automatically processed in less than 10 minutes.
"We're delivering a fully-automated PDF splitting and linking solution to streamline owner, architect, general contractor, and subcontractor communication on the jobsite and in the office," said CEO Mike Payne.