ACCIONA hits key milestone on Al Khobar 2 desal plant in KSA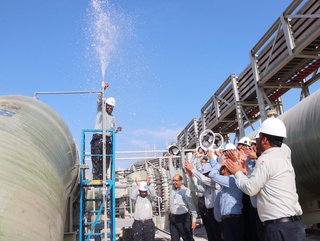 Spanish firm and local partner ramp up production during final testing to the plant's full capacity of 630,000 cu m of potable water per day
ACCIONA, the Spanish multinational construction company, has said that it has achieved a key milestone in the construction of the Al Khobar 2 Desalination Plant in Saudi Arabia, having ramped up production during final testing to the full capacity of 630,000 cubic metres of potable water per day, which is enough to meet the needs of three million people.
In a statement, ACCIONA said that the new desalination plant in the East of Saudi Arabia, is already supplying the water network for Khobar. It is one of the largest built in the Kingdom, and is also the largest reverse osmosis desalination plant built by ACCIONA worldwide.
The plant is equipped with energy-efficient Sea Water Reverse Osmosis (SWRO) technology and is set to be a key project in the modernisation of the country's water sector. The facility will also be fitted with reverse osmosis technology, and its daily capacity of more than 630,000 m³, will make it one of the biggest in the country and the largest RO plant under EPC scheme awarded in a single shot in KSA, the statement continued.
Javier Nieto, KSA Country Director for the water business, said: "This milestone is the result of good teamwork between the client, our engineers and the construction teams. Now that we are entering the final testing and commissioning stages, we will undertake several tests to make sure everything works perfectly.
"We are proud to have reached this milestone at Al Khobar 2. It proves ACCIONA's commitment to delivering good work to our clients on time, and of our ability to meet the goals of our clients and of local authorities," he asserted.
ACCIONA and its partner RTCC, were awarded the construction contract for the project in 2020. The public-owned company, Saudi Water Conservation Corporation (SWCC), awarded the contract.
Growing Demand
In a region with acute water scarcity, demand for desalinated water is being driven by climate change and population growth. Saudi Arabia, which has a population of 35 million, is the world's third largest per capita consumer of water after the United States and Canada.
As such, the Kingdom has put in motion a national program for rationalising water consumption, setting ambitious targets that include slashing usage by nearly 43% by 2030. The targets are of Saudi Arabia's comprehensive Vision 2030 social and economic development plan.
ACCIONA is a leading authority in desalination using reverse osmosis technology, which emits 6.5 times fewer greenhouse gases than thermal desalination. It currently has five very large desalination plants and three large sewage treatment plants under construction in Saudi Arabia.
All the desalination plants use seawater reverse osmosis technology. They include Al Khobar I and II, which have production capacities of 200 and 630 million litres per day respectively; Shuqaiq 3 & 4, with 450 million and 400 million litres per day, as well as and Jubail 3B with a capacity of 570m litres per day.