BSBG unveils design for $326m Upper House high-rise in Dubai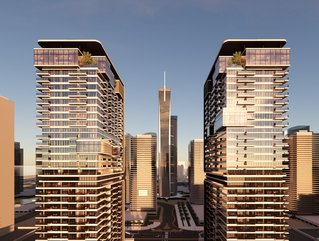 Residential tower development is located in the JLT district of Dubai & is the first of four projects to be developed between Ellington Properties & BSBG
Brewer Smith Brewer Group (BSBG), the international design and executive architect, has unveiled the design for Upper House, a residential high-rise tower located in the Jumeirah Lakes Towers (JLT) district of Dubai, for premium developer Ellington Properties.
The unveiling comes after the two companies signed a strategic partnership in 2022 for the collaborative development of four new projects in Dubai. Upper House represents the first of these four projects to come to market, a statement added.
Featuring 754 units in total, the property offers a mix of studios, one, two, and three-bedroom apartments. Residents will have views of Jumeirah Islands and the Dubai Marina skyline, while being able to avail of a variety of leisure facilities and amenities, such as a 37-metre-long horizon pool, an interactive fitness studio, a health club with a climbing wall, a yoga studio, a sky spa, and padel and basketball courts.
In addition, residents will have access to a bespoke movie theatre, a residential clubhouse, a record lounge, podcast room, indoor skatepark, a pet play area, a kids' splash pad and play area, and an outdoor barbeque area.
Describing the design, BSBG Group Design Director, Michael Lewis, said: "Upper House by Ellington is the epitome of a connected community, with first-class amenities delivering a lifestyle and wellness vision. With this project, we've tried to bring to life an aspiration of urban active living, creating a benchmark for wellness developments in Dubai."
Gateway to JLT
Located in the popular residential destination of JLT, the high-end dual tower residential development appears almost as a 'gateway to JLT' from the south, and will deliver ultra-modern apartments and sweeping terraces with true 360-degree panoramic views towards the Marina coastline, across JLT and Jumeirah Islands, Lewis continued.
"The number and variety of amenities are exceptional and are very interesting because most developers wouldn't normally commit to such a large quantity of non-leasable space within a scheme. But this creates a real sense of place, a real sense of community, and everything is designed with the objective of connecting people within the scheme. That to me is the key aspiration for this project."
The US $326.6mn development is Ellington Properties' first development in JLT. BSBG has designed the project with Ellington Properties' signature, high-quality amenities. It embodies a holistic design philosophy, the developer highlighted.
JLT has grown organically to become one of Dubai's leading mixed-use communities. Central to JLT's appeal is its diverse offering of leisure, hospitality, dining, and recreation facilities. From F&B pop-ups to five-star dining, and community markets to high-end retail.
Established in 1976 in Dubai, BSBG is a boutique architectural design practice provides design solutions for clients in the UAE and MENA region. It has been involved in several notable projects, including the world-renowned Emirates Golf Club, ICD Brookfield Place, The Opus by Zaha Hadid, and the ongoing Dorchester Collection Hotel in Business Bay.