Dar Global becomes first homegrown KSA brand to list on LSE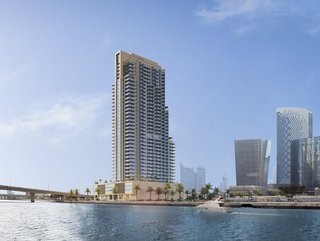 Urban Oasis
Subsidiary of Dar Al Arkan, the Saudi real estate developer, aims to access a larger global pool of investors & partners to support its expansion ambitions
Dar Al Arkan, the Saudi Arabian real estate developer, has announced the admission of Dar Global, its independent international development subsidiary, to the Standard Segment of the Official List of the FCA, and to the Main Market of the London Stock Exchange.
In a statement, Dar Al Arkan said that the official direct listing of its subsidiary on the London Stock Exchange marked it out as the first homegrown Saudi brand to be listed on the bourse.
Yousef Al Shelash, Chairman, Dar Al Arkan, commented on the milestone: "This is an extremely proud moment for us. After pioneering a distinct approach to development in the Kingdom's real estate sector, we believe it is time further to diversify the group's offerings across international communities with Dar Global.
"London is the ideal venue as Dar Global looks to access a larger pool of investors and partners to support its expansion ambitions in the global luxury real estate landscape. We thank the Ministry of Investment in Saudi Arabia for facilitating and supporting our global expansion and assisting us in spreading the brand of Saudi Arabia globally."
Established in 2017, Dar Global was originally known as Dar Al Arkan Global Real Estate Development, and its mandate was to disrupt the global luxury real estate market and develop the international assets of Dar Al Arkan Real Estate Development Company (DAARE), which has been in operation in the Kingdom of Saudi Arabia for more than 28 years.
The company will be steered by a highly experienced international executive team led by industry stalwarts such as Ziad El Chaar as the Chief Executive Officer, and David Hunter as the Independent Non-Executive Chair of the board of directors.
Liberum Capital Limited acted as Capital Markets Adviser on the listing and Norton Rose Fulbright acted as legal adviser on the listing, the statement continued.
Luxury Developer
Dar Global aims to establish itself as a highly differentiated international real estate business, predominantly focused on developing projects comprised of luxury second homes and vacation homes in selected locations across the Middle East and Europe. These locations include places like Downtown Dubai, Qatar, Oman, London, and the Costa del Sol region in the south of Spain.
The company also collaborates with global luxury brands, such as Missoni, W Hotels, Versace, Elie Saab, Automobili Pagani, and Automobili Lamborghini, and so on. The statement highlighted that every Dar Global offering will be modelled by renowned design figures, and maintained by experts within the field, thus creating a bespoke offering for clients.
Along with its extensive pipeline of projects, the Saudi-based company currently has eleven premium projects in six different countries, with three of its developments, including Urban Oasis, the Da Vinci Tower in Dubai, and Sidra in Bosnia, set to be completed in the fourth quarter of 2023.