Ora Developers Egypt Group buys land for major development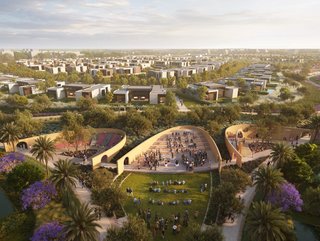 316 feddans of land in the El Sheikh Zayed Extension will be used for a $784.8m mixed-use development in the west of Cairo
Ora Developers Egypt Group, a leading real estate company in Egypt, has announced that it is currently closing an acquisition deal for an area of land, of 316 feddans, in the El Sheikh Zayed Extension in the west of Cairo, for its latest mixed-use development project in the country.
In a statement, the company said that the land acquisition is part of a US$784.8 million investment, to develop a project that will include single family residential units, as well as non-residential facilities such as retail, sports facilities a clubhouse, a school, and outdoor communal spaces to encourage activities and interactions. All units will be delivered fully furnished.
The project's architectural vision will be built upon the pillars of proximity, functionality, openness, integration, and timelessness. The architectural firm SB Architects has been awarded the master-planning and the architectural designing of the development; the statement continued.
"This acquisition will help us, at Ora Developers Group, expand our diverse project portfolio with a whole new elevated experience, and guarantee clients that we will deliver our promises to them, as part of our aim to constantly develop sustainable, luxurious, and practical neighbourhoods. This also aligns with the Egyptian government real estate expansion plans," said Naguib Sawiris, Global CEO and Chairman of Ora Developers Group.
The project will also include commercial facilities that meet all customer needs, whether local or from the GCC. These include retail outlets, kids' areas, event venues, workspaces, a gym and spa and dining outlets.
Strategic Location
The new land is strategically placed in an intelligently planned spot in El Sheikh Zayed Extension and lies between Al Dabaa Corridor and Middle ring road with proximity to Cairo Alexandria desert road and Waslet Dahshur road, it added.
Haitham Mohamed, CEO of Ora Developers Egypt Group, also commented on the acquisition by affirming: "Through this new land, we hope to create an extension of a destination that attracts all different kinds of customers with varying lifestyles.
"This includes a constant focus on customer needs. For example, this eminent project focuses on unit designs in the form of boutique villas to fit all family sizes, as well as twin and town houses, and introduces new typologies to the real estate market. We aim to always create and provide a safe, relaxing community where everyone has access to the environment that they've always dreamt of living in," he concluded.
Ora Developers Group has developments in London, Cyprus, Grenada, Pakistan, and Egypt. The group's subsidiary, Ora Developers Egypt Group, entered the Egyptian market in 2018 and in addition to a variety of residential development projects, has investments in commercial real estate, office spaces, parks, sports and recreational clubs, as well as hospitality.