Bellway snaps up nearly 16,000 plots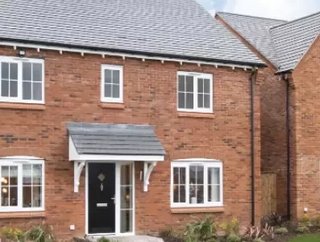 Developer secures 15,982 plots valued at £891 million since last August as demand for larger, higher value homes continues to rise
Bellway has acquired 15,982 plots since last August worth £891 million and agreed to buy a further 9,000 plots as it strives to keep up with soaring UK housing demand.
In a trading update to the London Stock Exchange, Bellway reported an average 239 reservations per week from February 1-June 6, up 51.3%, and a "strong balance sheet" with net cash of £408 million and the value of its order book rose 20.5% to £1,889 million.
Housing completions for the full year are expected to be around 10,000 homes and the average selling price is now expected to rise in excess of £300,000.
Jason Honeyman, Chief Executive, said demand for new homes continues to be strong and customer confidence throughout the wider housing market is resilient. "Customer satisfaction is high and our recently launched 'Customer First' programme will help to improve quality further," he said.
Notwithstanding the introduction of lower regional Help-to-Buy price caps, outside of London, and the restriction of the scheme to first time buyers only, with effect from April, the demand for larger, higher value homes "remains encouraging", which has been supported by the extended stamp duty land tax holiday and more broadly, ongoing customer aspirations for more home-working space. 
Not everything is rosey in construction however, as pressure on material supplies remains intense, which is having a knock-on effect on projects and prices.  
Since the beginning of the year the IHSMarkit CIPS UK Construction PMI has shown shortages of over 60 different construction materials including bricks, timber, roof tiles, insulation and kitchen appliances in every month this year. Overall, the number of construction materials experiencing shortages and price increases is trending upward.
With such a large number of EU workers from the UK leaving the industry, the sector is suffering from a further employment drought. 
New national research from Powered Now, a field service management software that specialises in trades, shows 18% of Brits have sought a new career path in the trades as a result of the pandemic. But the pandemic has been a catalyst for diversifying the UK's trade workforce, with 15% of those considering the trades as a career, female. 

Key Statistics
18% of Brits agree that after COVID, have found employment within a trade sector to pick up additional work or to commence a new career path
15% of tradespeople have seen their client demand increase post-COVID
17% of tradespeople regularly work over 10 hours a day
16% of tradespeople agree that they lose out on business due to extensive administrative tasks, such as chasing invoices
16% of tradespeople agree that sequential waves of COVID has made them more motivated to work
Ben Dyer, CEO of Powered Now, said with shortages of supplies and labour, the whole industry is still in catch up mode and various projects that were delayed by sequential lockdowns, are now taking priority.
"This has helped to spike demand and we expect it to continue in the short term. Our research has entirely confirmed that tradespeople and consumers alike are very much eager to sustain this growth," he said. 

"Our SME customers are also talking about the pressure to complete jobs as they don't have enough boots on the ground. As we have seen from the sentiments established in this research, a new wave of tradespeople are more motivated to work and are commencing their work on home improvements even sooner. These concerns are also sure to help the sector bounce back even quicker as people will rush to hire a tradesperson for their desired work."