Sir Robert McAlpine and Aggreko conduct green power trials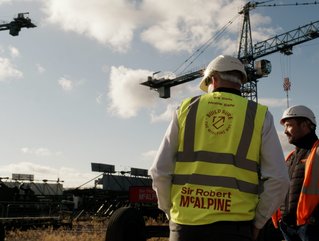 Businesses tend to overestimate the power they need at the beginning of a project, according to field trials involving Sir Robert McAlpine and Aggreko
The most telling finding from decarbonisation field trials involving Sir Robert McAlpine and temporary power company Aggreko related to generator sizing.
"Businesses tend to overestimate the power they need at the beginning of a project, and this trial was no different," it concludes, in a Green Power in Construction report. "In both scenarios the generator that was first specified by Sir Robert McAlpine was too large. Working this way is not only expensive but also creates emissions that can be avoided with the introduction of greener upgrades that maintain the same level of performance."
Aggreko's consultancy throughout this project demonstrated the importance of correct sizing, showing how even minor changes can bring about profound improvements.
The field trials also unearthed "some promising results" around decarbonisation as the construction industry approaches a ban on red diesel in April.
Both companies have been reforming their approach to power generation by analysing how equipment performs on site and determining where improvements can be made through greener upgrades.
Aggreko was brought on board to conduct the range of tests at Sir Robert McAlpine's Kettering plant in late 2021. The aim was to keep net zero ambitions on track but also to demonstrate how strategic knowledge-sharing and greater industry collaboration holds the key to progress.
Technologies tested included battery assisted generators and Hydrogenated Vegetable Oil (HVO), both growing in popularity as industry transitions away from traditional fuels. It also included load-on-demand – a solution using several smaller kVA generators to power the same peak demand as one larger unit, which automatically turns off surplus generators when the site's demand falls.
The tests also looked to understand which of Aggreko's generator set-ups was most efficient for providing power on site, while offering both organisations the practical knowledge needed to make more sustainable decisions at other sites across the country.
The project was spearheaded by Martin Mitchell, Plant Procurement Manager, and Steve Wright, Commercial Plant Manager, both from Sir Robert McAlpine, alongside Tom Adlington, Sector Team Leader at Aggreko.
The tests focused on lifting jobs using two different types of tower crane at full working capacity, hoisting and slewing 12.5- ton weights. Both cranes are used in Sir Robert McAlpine's yard and in the field.
The results highlighted that generators that are generally oversized or poorly matched for their chosen application, leading to inefficiencies and ultimately unavoidable emissions. Both scenarios revealed significant reductions in both fuel consumption and carbon emissions, from as much as 45% all the way up to 95%.
Mitchell believes these trials have the potential to revolutionise temporary power on construction sites.

"We have proven something in collaboration with Aggreko, but now we need to educate and promote these findings to the rest of the business and the industry," he said. "Our partnership with Aggreko has combined expertise and resource to deliver against a common goal. Most significant for me is the courage and conviction to challenge the way we do things, deliver the trials, and most importantly, prove to everybody, there is a better way of working."
Adlington said the project was born out of a common goal to improve operations at both ends, and ultimately reduce the impact of our industry's environmental impact.

"We're not just a transactional power provider; we apply innovative thinking to existing technologies and that's what's helping companies like Sir Robert McAlpine make an impact today. We hope this report provides inspiration and practical guidance for others across the sector." To read how Aggreko is powering a smooth energy transition, click here.

GHG emissions from the construction ecosystem are mainly driven by two components: raw-material processing for buildings and infrastructure (about 30% of total construction emissions per year, largely cement and steel) and buildings operations (about 70%), according to McKinsey.

Design is the most important factor in determining GHG emissions over a building's lifetime. By the time the construction process begins, the majority of decisions affecting the project's GHG emissions are locked in.
"Fundamental design decisions – such as new construction versus upgrading, building size and shape, level of insulation, and floor-space flexibility – can have a significant impact on emissions for decades to come," it states.
• Join global business leaders and sustainability experts who are taking meaningful action at Sustainability LIVE, being held at Tobacco Dock, London, 23-24 February 2022. Register your attendance today. Click here to discover more.